Owning It: The Power of Admitting Your Mistakes
By disclosing clinical mistakes and dealing with the consequences and emotions that result, veterinary professionals can gain greater resilience and reduce burnout and depression.
Published: July 03, 2018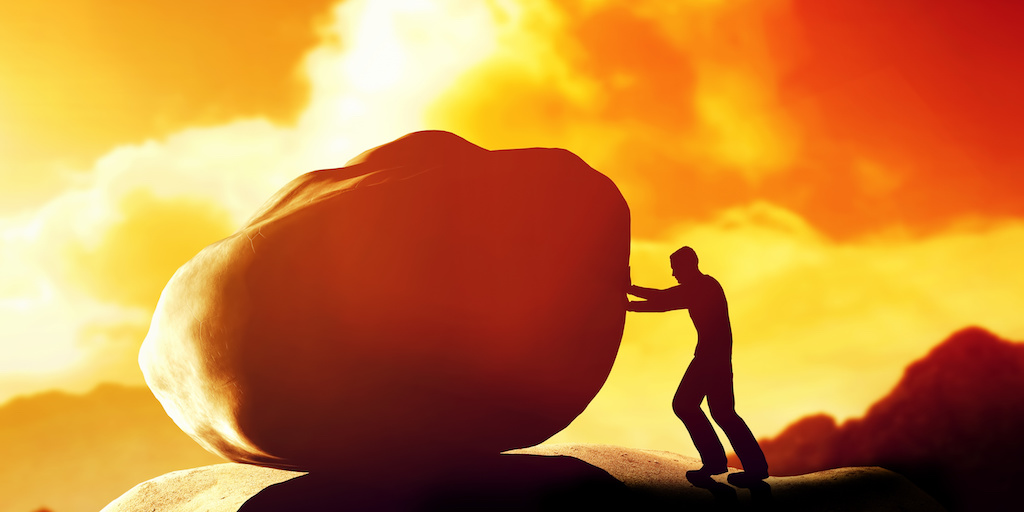 The prevalence of medical mistakes resulting in harm to patients is high. In fact, each year more than 250,000 deaths in U.S. hospitals are attributed to medical errors.
1
If this figure included diagnostic errors, the number of prevent- able deaths would rise to approximately 400,000 annually.
2
Related surveys on the topic have also revealed that 83 to 92 percent of physicians have made a mistake in their career that resulted in a near miss (NM), adverse event or serious error.
3,4
Most recently, a 2018 survey study from the Veterinary Information Network (VIN) found that 74 percent of veterinarians had been involved in at least one NM or harmful medical error within the previous year.
5
Nearly all veterinarians know what it feels like to make an unfortunate error. After all, we're human. Take some comfort in knowing that you're not alone, but also recognize that there are steps you can take to significantly decrease the lasting ramifications of medical errors for your patients, your clients and you.
RELATED:

The Personal Fallout From Medical Errors
While many more studies have been published on the impact of medical errors on human health care providers, the effects are similar, if not identical, for veterinary professionals. The emotional impact on these individuals — who are considered secondary victims — is remarkable.
6
Even though both human and veterinary health care professionals understand intellectually that serious mistakes happen, they routinely believe that errors can be prevented if correct procedures are followed. It should come as no surprise, then, that health care workers involved with a medical error or NM feel:
Puzzled and shocked
Fearful of discipline, litigation and loss of reputation
Guilty and angry at themselves
Anxious in general or specifically about making future errors
Distressed
Less satisfied with their jobs
Less confident in their abilities
Burned out
In my experience dealing with these emotions following a medical mistake, the symptoms are worse when I keep the error to myself. I've found that discussing my feelings provides quite a bit of relief, so I purposefully maintain a group of fellow practitioners on whom I can call in times of need.
Even if you don't currently have a close-knit group you can turn to, a number of industry-wide outlets have been established to help combat the guilt and distress associated with making medical errors:
VIN's Venting Over a Venti is an online forum that provides members with an outlet to discuss their experiences and share ideas.
Not One More Vet is a Facebook forum where veterinarians can solicit feedback anonymously from colleagues, which can be especially beneficial while the event is unfolding.
The Veterinary Confessionals Project is a website that allows users to submit career-related thoughts and secrets on any topic.

Dilemmas Related to Disclosure
Social psychologist Christina Maslach, PhD, who is well known for her research on occupational burnout, famously identified six areas of mismatch between people and their jobs that lead to burnout.7 Three of these — lack of control, absence of fairness and conflict in values — may be triggered by lack of disclosure to colleagues and/or clients. Moral distress, or knowing what to do in an ethical situation but not being allowed to do it, may also play a role.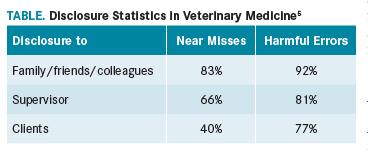 Think about when a harmful mistake is acknowledged by the team but not shared with the client. How do those team members who are not in control of making that disclosure decision feel?
"I believe moral distress is one result of making a mistake or having an NM," said Laurie Fonken, PhD, LPC, director of veterinary health and wellness programs at Colorado State University's College of Veterinary Medicine & Biomedical Sciences (CVMBS). "For the veterinarian involved in these situations, there is a process of determining how to communicate about the situation and how to follow up. An observer of a mistake or NM may also experience moral distress, as they might not have control over how it is handled."
This year's VIN survey study revealed that veterinarians disclose to their colleagues, family and friends 83 percent of NMs and 92 percent of medical errors that result in harm (
Table
). They report 66 percent of NMs and 81 percent of harmful medical errors to their supervisor, most commonly because it is ethically the right thing to do. Finally, veterinarians report 40 percent of NMs and 77 percent of harmful medical errors to clients. The survey's respondents relayed that when they fail to report mistakes to their supervisors or clients, it's usually because they fear confrontation, upsetting their supervisors and losing clients.5
Regina Schoenfeld-Tacher, PhD, one of the study's authors,
5
said, "Our research supported the hypothesis that NMs and harmful medical errors are not rare occurrences. They appear to result in both short- and long-term negative effects for a significant number of veterinarians. For many veterinarians, NMs and harmful medical errors lead to a diminished sense of job satisfaction and lower self-confidence. Clearly, this area warrants attention in the form of support systems and training to help veterinarians who have encountered these events."
Sign up to receive the latest news from veterinary business experts.