Making Room in Your Practice for Boutique Services
Offering new services in your hospital can be a gateway to happier clients, a more satisfied staff and a healthier bottom line.
Published: January 18, 2018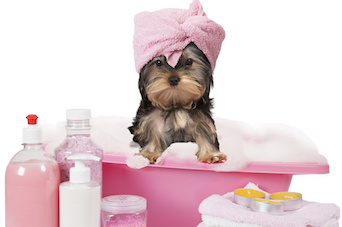 Pet owners are requesting increasingly luxurious and sophisticated veterinary services, from massaging baths and nail trims to acupuncture and digital X-rays. Many veterinary practices are reluctant to add new services to their plate, but fancy pet salons and resort hotels with sparkling lobbies, bubbly Instagram photos, and cutesy, welcoming names are popping up throughout the country — and threatening to woo your clients.
The Benefits of Expansion
Here are some compelling reasons to add a boutique service (or two or 10) to your practice.
Competitive Edge
Dip your toes into the glittering waters of boutique veterinary care today and you will meet and exceed pet owner expectations tomorrow. Don't wait until clients are knocking on your door (or worse, knocking on other clinics' doors) to offer concierge services, specialty cat grooming or doggie day care. If you wait too long, you won't be able to stay ahead of the competition. Instead, you'll be left trying to keep up with it.
Increased Profits and Loyalty
Veterinarians often shy away from profit making, but there is no shame in keeping your clients and, in effect, your accountant happy.
Short-term profit is not the only goal when adding new services to your practice. Long-term client retention is another important aim. If a pet owner must make an inconvenient trek to an unfamiliar veterinary clinic or salon for a service that you don't offer, that client may never return to your practice for the services you do offer. This means that if several clients are asking for pet haircuts, it's best to cave in to their demands and start doing some grooming. Otherwise, you risk losing those clients forever.
Better Staff Morale
Many clinics find it easier to attract and retain higher-quality employees when they offer a larger variety of services. A practice that offers novel experiences and career advancement is more attractive to potential team members.
The Keys to Expansion
Adding a boutique service to your practice offers many benefits for you, your clients and your patients, but is it really practical for a busy clinic to provide both quality veterinary care and add-on services like grooming, boarding and spa treat-ments? Here are some tips to make it work for you.
Get staff buy-in.
Two obvious considerations for adding a new service are client demand and cost to the clinic. Another consideration, though, is passion — how your staff feels about it. Your practice is only as good as the care it can provide.
Although your competitors may offer grooming, luxury boarding, house calls or innovative medical treatments like cold laser therapy, that doesn't necessarily mean you should, too. If your staff feels that added services are disconnected from the clinic's core mission and their day-to-day duties, they may feel unmotivated and overworked and, ultimately, may not provide the highest-quality care.
Chances are your staff has hidden skills that match many of your clients' demands. Take time to interview your employees about their favorite tasks and their career aspirations before deciding on how exactly to expand your practice offerings.
Cross-train your team.
One mistake some practices make when trying to expand their offerings is putting all the pressure of the new service on a single person, such as a groomer or mobile veterinarian. The problem here is that if that person leaves the clinic, so does the service.
Instead of approaching things in such a temporary way, take the time and spend the money to cross-train your entire staff on the services you offer. That will empower your team to deliver the best care possible and build long-lasting relationships with clients. For example, a veterinary technician normally focused on basic wellness may check in on a pet receiving a more "frivolous" service, like a bath, and notice a health problem that needs to be addressed.
Get rid of waste.
Before adding more to your clinic's already crowded table, see if you can clear anything away. Do you offer services that nobody requests or are not profitable? Does your staff waste time on administrative tasks like billing and appointment scheduling? Do you spend too much money on office supplies or medical technology?
Perhaps you can negotiate a deal on office supplies, purchase computer technology that will speed up administrative tasks or unload your shelves of fancy pet shampoos that no one is buying and replace them with flea and tick medications that are more likely to sell. During breaks between client appointments, spend time on tasks like inventory, team building, cleaning and waste disposal, client follow-ups and organizing, all of which can improve the overall efficiency of your clinic.
Sign up to receive the latest news from veterinary business experts.