Program Pairs Air Force Veteran and Rescue Dog
In partnership with American Humane's Pups4Patriots, Zoetis Petcare's K-9 Courage program has sponsored a rescue dog that has been paired with an Air Force veteran.
Published: November 12, 2018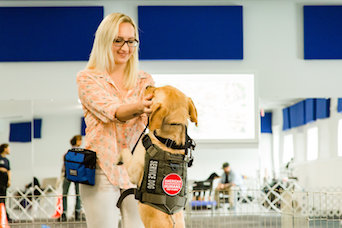 A heartwarming collaboration has paired a deserving Air Force veteran with a rescue dog specially trained to assist with post-traumatic stress (PTS).
Since 2015, the
K-9 Courage
program from Zoetis Petcare has supported retired military and police K-9s to ensure that these working dogs continue to live happy and enriched lives. More recently, the charitable program became a proud sponsor of American Humane's Pups4Patriots program, which trains shelter dogs to become service dogs and provide assistance for military veterans struggling with the invisible wounds of war, including PTS and traumatic brain injury.
Through this partnership with
Pups4Patriots
, K-9 Courage had the unique opportunity to sponsor Annie, a rescue dog that has since been trained and successfully paired with Dottie, an Air Force veteran who served between 2015 and 2016, before being honorably discharged. Since being united, Annie has helped Dottie with her PTS symptoms and has allowed her to be more confident in everyday life.
"Annie changed my life," Dottie said. "I'm more independent in social situations and I feel more like myself. We've had a special connection since day one, and Annie is my constant companion and protector."
RELATED: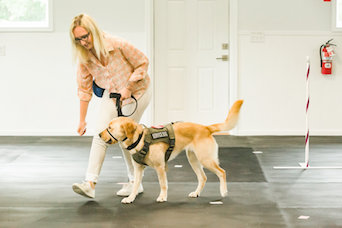 Supporting up to 650 dogs each year, K-9 Courage provides the owner of each dog with a $300 debit card annually that can be applied toward any veterinary expense, ranging from wellness visits and vaccines, to prescription medications and treats.
"In honor of all veterans, we are committed to supporting the life-saving work of American Humane's Pups4Patriots program," said J. Michael McFarland, DVM, DABVP, executive director for Zoetis Petcare Marketing. "The partnership and connection between Annie and Dottie is an inspiration and a great example of how Pups4Patriots is essentially saving lives at both ends of the leash."
In the coming year, officials with Zoetis said K-9 Courage will support 3 more veterans and dogs as part of the Pups4Patriot's program.
"My gratitude for Annie and the program is immeasurable," Dottie explained, "and I'm so thankful that there are sponsors like K-9 Courage to help make programs like Pups4Patriots possible. I can't imagine my life without Annie."
Sign up to receive the latest news from veterinary business experts.