You Can't Put a Price on Happiness (Or Pets) for Millennials
Having a pet is expensive, but a new survey says that millennials are willing to empty their pockets for their "fur babies."
Published: May 25, 2018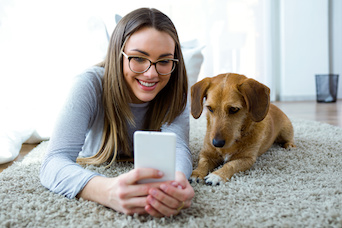 One in every three pet owners is a millennial, making this generation extremely important to the success of the pet and veterinary industries. But how much are millennials willing to spend on their furry friends? According to a
new survey
from TD Ameritrade, quite a lot.
On average, a millennial dog owner will spend $1,285 per year on their pet, while a millennial cat owner will spend $915 per year on their pet. As a whole, the generation spends $67 billion per year on pet dogs and $33.5 billion per year on pet cats.
​​​The survey polled 1,519 millennials (72 percent were pet owners), about various topics ranging from whether they consider their pets to be part of their family to how much they expect to spend on their pet over the course of its life.
RELATED:
Notable results from the survey include:
The majority (67 percent) of millennial pet owners consider their pets as "fur babies," but women pet owners (76 percent) are more likely than men pet owners (58 percent) to think of them as such.
Seven in 10 millennials own a pet, with more than half (56 percent) owning a dog and over a third (36 percent) owning a cat.
Seven in 10 millennial pet owners would take leave to care for their new pet if their employers offered it.
On average, millennial pet owners are prepared to spend up to almost $2,000 if their pets get sick — one in 10 say they'd spend $10,000 or more on their sick pets.
Millennial dog owners expect to spend more on their dog throughout its lifetime than on personal medical costs.
Having a pet is expensive, and this survey illustrates that millennials are willing to spend their hard-earned income and limited time to care for their beloved pets — even when they may not have much of either to go around.
To grab clients in this important segment of the pet market, veterinarians need to promote their practices to millennials in a way that both
speaks their language
and shows an understanding of the financial burden they may face by supporting a pet.
"I made an investment in my happiness and brought home Willa, a golden retriever puppy," Samantha D., a 27-year-old marketing strategist from Omaha, Nebraska, said. "Willa was $700, quite a bit more than the $60 cat adoption fee. And I've spent $350 in veterinary fees and puppy shots, and an unknown amount of money on toys, a dog bed, collar, leash, food, puppy shampoo, etc.
Yes, Willa is expensive, but she's my fur baby and you can't put a price on happiness."
Sign up to receive the latest news from veterinary business experts.