VMD Weekly Roundup: Why Dogs are Smarter Than Cats
Why are rural veterinarians still needed in Texas? How are veterinarians the key to explaining how food is produced? Why are dogs smarter than cats? Answer these questions and more in this week's veterinary news roundup.
Published: December 02, 2017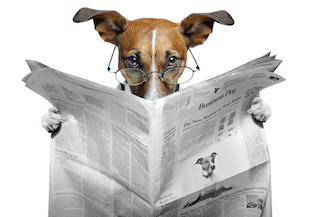 •
Why Dogs Are Smarter Than Cats
(
Newsweek
)
"In the dogs vs. cats debate, dogs may have just earned a point. New research published in Frontiers of Neuroanatomy suggests that canines have more neurons in the cerebral cortex of their brains than their feline counterparts." And, according to the new research, raccoons are even smarter.
•
Animals That Have Done Time
(
Mental_Floss
)
"Whether they harmed property or people, were in cahoots with human outlaws or were simply in the wrong place at the wrong time, these eight critters are proof that 'crime' can sometimes be cuddly."
•
Veterinarians See Insurance Value with Their Pets
(
GlobeNewswire
)
"As medical insurance for pets continues to rise in popularity among pet owners, veterinarians and their staff are also seeing the value in the treatment and care of their own pets' maladies. After all, the most common conditions among pets affect veterinarian's pets, too, and those illnesses and injuries can be hard to budget for."
•
The True Cost of a Nail Trim
(
Psychology Today
)
Should owners take over nail trims from veterinarians? "Only a modest percentage of owners and veterinarians understand and take appropriate action when common stress signals and signs of fear pop up. Poorly handled nail trims are not good for your dog in the long run."
•
Veterinarians Want to Work Less
(
AVMA
)
"In 2016, most veterinarians were content with the number of hours they worked on a weekly basis, reports the 2017 American Veterinary Medical Association Report on the Market for Veterinarians, but nearly a fifth indicated they wanted to cut back on the number of hours they currently work."
•
Veterinarians are Key to Explaining How Food is Produced
(
The Fence Post
)
"With the problems in animal agriculture today, veterinarians may be the most important advocate for the beef industry and food animal production. Dan Thomson, DVM, sees animal welfare, environmental stewardship, and food safety and security as all important parts of sustainability."
•
Beautiful Birds Prove It's All in the Genes
(
Journal Sentinel
)
"The better looking a male tree swallow is, the more effective his immune genes are, and the more likely his offspring will be equipped to resist parasites and disease-causing pathogens," University of Wisconsin-Milwaukee researchers have discovered.
•
Rural Veterinarians Needed in Texas
(
KRGV.com
)
"The U.S. Department of Agriculture is labeling the Rio Grande Valley as having a shortage of veterinarians in public practice for the fiscal year of 2017. Newly graduated veterinarians want to go to Houston or Dallas or San Antonio, where there are a lot more clinics and a lot more availability for them to get the pay that they need to get coming out of veterinary school."
Sign up to receive the latest news from veterinary business experts.