Veterinary Immunotherapy Company Wins Innovation Award
Torigen Pharmaceuticals won the 2018 Innovation Award at the KC Animal Health Corridor Investment Forum.
Published: August 31, 2018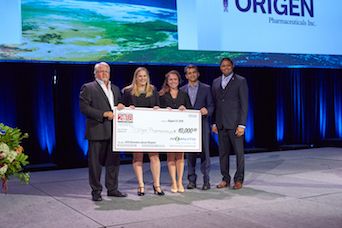 Torigen Pharmaceuticals Inc., a Connecticut-based veterinary immunotherapy company, was recently granted the Innovation Award at the KC Animal Health Corridor Investment Forum in Kansas City, Missouri.
Torigen won the award based on its autologous immunotherapeutic cancer vaccine for dogs, VVax-001. The vaccine, created from a patient's own deactivated tumor cells, stimulates the immune system against specific tumor-associated antigens found on the outside surface of the tumor cells.
"The vaccine stimulates the immune system resulting in a cascade of events that culminate in the stimulation of T-lymphocyte cells, which respond and attack the tumor based upon the antigens that we have provided," said Mark Suckow, DVM, chief scientific officer for Torigen in an
interview with American Veterinarian
®
.
RELATED:
Torigen's vaccine, which is still considered experimental, has been commercially available since 2017. To date, roughly 250 personalized vaccines have been created for cats and dogs.
At the investment forum, Torigen was among 12 emerging animal health companies from 3 countries that competed on August 21 in a "Shark Tank" format with more than 400 venture capital funds, investment firms, and potential partners. Presenting companies were seeking anywhere from $500,000 to $20 million in funding and had revenue projections of $20 million within 5 to 7 years.
As part of the award, Torigen also received a check for $10,000.
Sign up to receive the latest news from veterinary business experts.