Veterinary Associations Aim to Strengthen Licensing Requirements
The 4 associations are confident their efforts will help protect the public from individuals who may fail to follow veterinary regulations.
Published: August 30, 2018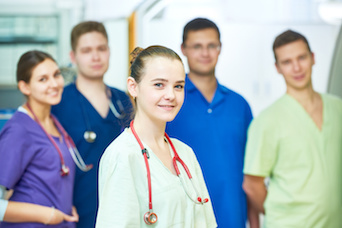 Yesterday, 4 of the country's leading veterinary associations released a joint statement of support to protect and strengthen licensure requirements: American Veterinary Medical Association (AVMA), American Association of Veterinary State Boards (AAVSB), Association of American Veterinary Medical Colleges, and National Association of Veterinary Technicians in America (NAVTA). Together, these groups are working to standardize and improve licensure standards for both veterinarians and veterinary technicians.
"Veterinarians take care of our pets, protect our food supply, defend against bioterrorism and prevent diseases that threaten public health," said AVMA President John H. de Jong, DVM. "It's important we ensure that each member of the veterinary profession, including veterinary technicians, is armed with the necessary knowledge to do these jobs effectively. Strong licensing standards help us do that."
According to the group's statement, in addition to ensuring that veterinary professionals meet a necessary level of competence to perform their jobs correctly, licensure certifies that veterinarians are trained properly to comply with state regulations on controlled substances, such as opioids.
RELATED:
For its part, the AAVSB is studying ways to promote uniformity and standardization in licensure. This includes developing the Veterinary Application for Uniform Licensure Transfer (VAULT) program, which provides a centralized process for veterinary regulatory boards to obtain a verified record of a veterinarian's or veterinary technician's credentials.
"The AAVSB conceived and launched the VAULT program for its member regulatory boards to simplify and streamline the process for licensees and potential licensees in the interest of public protection," said AAVSB President Mark Olson, DVM. "Modernizing the mobility process for veterinarians and veterinary technicians ensures that the public has access to highly qualified professionals,"
As part of the effort to improve licensing, NAVTA is collaborating with veterinary technician associations on the state level to standardize technician credentials to support mobility and license portability.
"Veterinary practices realize their full potential through the team approach, which includes veterinary technicians and veterinary nurses," Kara M. Burns, NAVTA president, said. "Licensing of members in our profession ensures qualified individuals capable of the appropriate judgment in promoting better patient care, public health and pet owner protection are available to answer the call."
Together, the groups are confident their efforts will help protect the public from individuals who may fail to follow veterinary regulations or ethics in a way that endangers public health or animal patients.
Sign up to receive the latest news from veterinary business experts.