The Rusty-Spotted Cat: World's Smallest Feline
If you think you know cats, you're in for a surprise. A new documentary series from the BBC gives viewers an inside look into the secret lives of cats. Tomorrow night's episode highlights the smallest cat in the world.
Published: January 10, 2018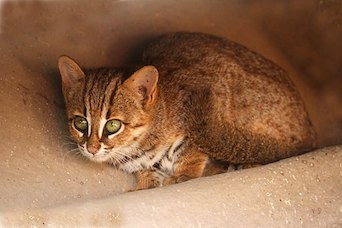 Which breed of cat weighs less than a bag of sugar and is so small it can sit in the palm of your hand? You won't find the answer in a posh pet boutique. Instead, the rusty-spotted cat — which accurately fits the previous description — roams secretively in only particular regions of Asia.
As the smallest of the cat family, this adorable and mysterious feline has finally been captured on video by creators of the BBC's new show, Big Cats, which airs tomorrow at 8 p.m. on BBC One.
"Rusty-spotted cats are a beautiful, yet elusive mammal," said Ian Llewellyn, one of the BBC Natural History Unit camera operators. "Filming them was incredibly challenging both technically and logistically."
Rusty-spotted cats — which can be found in India and Sri Lanka — are about 200 times smaller than a lion, and two times smaller than the average domestic cat. Their eyesight is six times more powerful than humans and they can survive 18 years in captivity.
Filmmakers were able to capture remarkable footage of one male rusty-spotted cat moving about in a remote rainforest sanctuary. Some are calling the footage the "most intimate images" ever filmed of a species rarely seen by humans.
According to those working on the Big Cats documentary, finding the felines represented throughout the series has been a two-year challenge. Filmmakers traveled to 14 different countries to track down 31 of the 40 known feline species featured.
One spokesperson from the new series said: "If you think you know cats, you're in for a surprise: there's far more to this charismatic and misunderstood family than just being the world's top predators. Cats have their tender side — they are emotional and intelligent – in this landmark three-part series we uncover their social side, their complex communication, devoted parental care, courtship and reveal how cats survive and thrive in all four corners of the globe.
From the frozen north to the oldest and driest deserts, from the most remote, unexplored landscapes to the very heart of our modern world. Big Cats is the ultimate, definitive celebration of the entire cat family. The planet's top predators and everyone's favorite animals, as you've never seen them before."
In addition to the world's smallest cat, viewers will also learn more about lesser known felines, such as the margay, caracal and ocelot. Visit the
BBC One
website for airing times of other episodes.
Image credit: Davidvraju (Own work) [CC BY-SA 4.0 (https://creativecommons.org/licenses/by-sa/4.0)], via Wikimedia Commons
Sign up to receive the latest news from veterinary business experts.