Surf's Up, Dogs Out at World Dog Surfing Championships
An Australian kelpie named Abbie Girl took home the prize of top dog at this year's World Dog Surfing Championships, making her the two-time reigning champ.
Published: August 10, 2017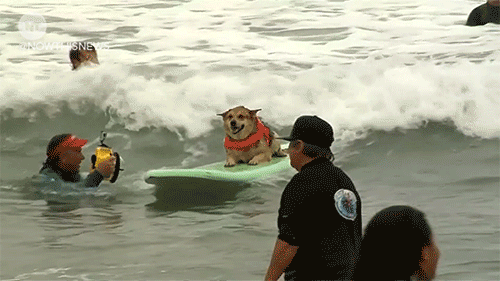 More than three dozen dogs competed in the second annual World Dog Surfing Championships held on August 5 in Pacifica, California.
More than 1,000 people flocked to Linda Mar Beach to watch some of the most talented surfer dogs hang twenty. Dogs could compete either by themselves or in tandem with another person or another dog. After showing off their moves to the crowd, the dogs were then scored by three judges.
"Number one is stay on the board. And number two is looking happy," explained Sam Stahl, one of the judges. "No one wants to see a dog terrified at the end of a surfboard."
At this competition, dogs also competed for prizes in the ball fetching and dog beach fashion categories, and competitors (and their owners) were encouraged to fundraise for local canine, surfing and environmental nonprofit organizations.
The sport of dog surfing was first documented in the 1920s and appeared in several films during its early years. But the first dog surfing competition was held in 2006 in San Diego. The idea behind the competition was conceived and proposed by the author of "
The Dog's Guide to Surfing
."
The author approached the Loews Coronado Hotel to host that first contest, and from there similar dog surfing events have sprouted up throughout the world — many in California, Florida, Australia and the United Kingdom.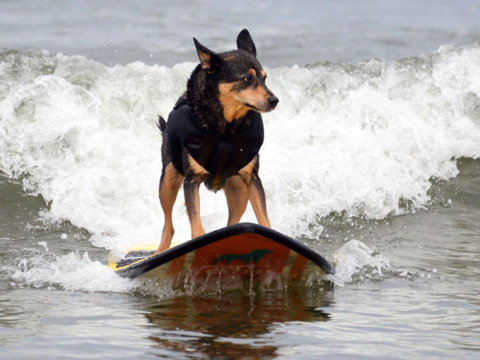 Credit: surfdogchampionships.com
During this year's event, an Australian Kelpie named Abbie Girl (
photo above
) took home the prize of top dog, which now makes her the two-time reigning champ of the World Dog Surfing Championships.
Abbie Girl was adopted from an animal rescue by Michael Uy, who started taking her along while he went surfing to mellow her out and have her socialize with other dogs.
"One time we put her on a surfboard to rest, and she stood up on the board and we thought, 'Well, why don't we put her on a wave and see what happens,' and she just rode it all the way into shore," Uy said.
After competing in surf events for 10 years, Abbie Girl is known as the longest competing surf dog. She also holds two records for the longest wave surfed by a dog in open water — a whopping 351.7 feet.
Sign up to receive the latest news from veterinary business experts.