STATE NEWS: With New Bill, Domestic Violence Survivors Would Receive Help For Pets
Studies have shown that the link between domestic violence and animal abuse proves pets can also be victims. A California Senate bill proposes a way to help survivors of violent crimes and their pets find safe havens.
Published: February 09, 2018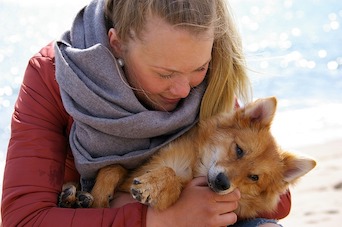 To help survivors of domestic violence avoid having to choose between a safe home and keeping their pets, California Sen. Toni Atkins has introduced Senate Bill 1005.
Current law allows the California Victims Compensation Board to compensate survivors of violent crimes who are injured or threatened with injury to help them relocate but does not include any compensation for their pets.
"I cannot imagine the anguish of possibly being separated from a beloved pet on top of the trauma associated with physical abuse," Atkins said.
If passed, the bill would allow domestic violence victims to use relocation funds toward expenses directly related to housing — including pet deposits and pet rent.
RELATED:
"There is an alarming connection between animal cruelty and domestic violence," said Kathy Moore, executive director of the California Partnership to End Domestic Violence. "SB 1005 will enhance pet-related relocation support, allowing more survivors to reach safety with their pets."
Elizabeth B. Strand, PhD, LCSW, director of veterinary social work at the University of Tennessee College of Veterinary Medicine College of Social Work, conducted research surrounding
animal abuse in domestic violence situations
.
Dr. Strand found that abused women delay leaving their abusers because their pets were being threatened, and this was particularly more intense for women who did not have children.
"Pets are members of the family, and the love and comfort they provide can help heal emotional wounds," Atkins said. "SB 1005 will allow survivors and their animal companions to stay together in a safe home during a difficult time."
Sign up to receive the latest news from veterinary business experts.