STATE NEWS: 3 States Proposing Bans on Puppy-Mill Pets
Newly passed legislation restricts the sale of cats, dogs and rabbits in California pet stores to rescue animals beginning January 2019. Which state will be the next to enact a similar law?
Published: March 10, 2018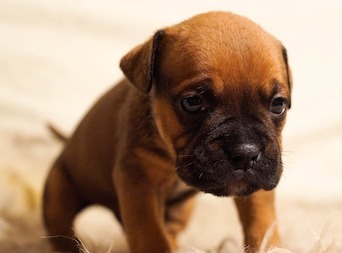 Retail pet store bans single out inhumane commercial breeding facilities by outlawing the sale of so-called puppy-mill dogs, cats and rabbits at pet stores. California made headlines last fall when it became
the first state to pass legislation
requiring all cats, dogs and rabbits sold at pet stores to be rescue animals. Which state will be next?
Besides the State of California,
more than 250 localities
across 22 states have passed similar laws to date. But this year, three northeastern states are poised to be the next to pass a statewide retail pet sale ban.
Pennsylvania
Senator Guy Reschenthaler and State Representative Jason Ortitay are currently drafting puppy mill ban legislation to "help shift the pet market toward humane sources," according to Rep. Ortitay.
Thousands of pets are euthanized each year in Pennsylvania alone, he said, and this bill would help ease some of the burden animal shelters and rescues are left to deal with on their own.
RELATED:
"With this legislation, pet stores will partner with shelters and rescues to promote adoption and decrease the demand for the puppies raised in puppy mills," he said.
The bill will also remove a loophole in the state's outdoor sales law. Under current Pennsylvania law, a licensed kennel can sell a dog at any public place, but a license does not guarantee that the breeder is humane. If this new legislation is passed, this exemption for licensed kennels will be removed.
"Purchasing a puppy at a remote location makes it impossible to see the parents of the puppies or the conditions in which they were raised," Rep. Ortitay said, "making it the perfect sales venue for unscrupulous dealers. He is currently seeking co-sponsors for the bill on the
Pennsylvania House of Representatives website
.
New Jersey
This state has passed retail pet sale bans in 114 localities, but has yet to pass state legislation. Representatives Pamela Lampitt and John Burzichelli hope to change that narrative.
Proposed bill
A3645
encourages municipalities to require that pet shops only sell cats or dogs obtained from shelters, pounds or animal rescue organizations, and encourages counties to enforce requirement wherever adopted.
The two reintroduced this bill in the assembly on Monday, but this was not the first time similar legislation has been proposed in the state. A3645 was introduced in the assembly in April 2016 but died in committee. This failed bill was decidedly stricter, requiring breeders to certify compliance with Department of Health breeding and care regulations, and then prohibiting pet shop sales of dogs without certification.
While the bill proposed this week only "encourages" municipalities to enact retail pet sale bans, it can still impact the several localities yet to pass legislation on this matter.
New York
Senate Bill
S7711
, proposed by Senator Michael Gianaris, would require dogs and cats sold by certain pet dealers to be rescue animals.
"With thousands of good animals in need of homes, there is no need for notorious puppy mills to supply pet stores," Sen. Gianaris said. "Our four-legged companions should be treated with respect, not like commodities."
Five localities in New York have already enacted retail pet store bans: Mamoroneck Village, Mount Pleasant, Rye Brook, Yorktown and Port Chester. But this proposed ban would "promote animal welfare and find homes for the companion animals most in need" throughout the entire state.
"There are thousands of animals that are just waiting to be rescued," Sen. Gianaris said. "We don't need to support an industry that mistreats animals and kills animals when they are no longer useful for income generation."
This senate bill currently has the support of five co-sponsors, but the companion bill in the assembly has yet to acquire any.
Sign up to receive the latest news from veterinary business experts.