Pet Food Company Donated $28 Million to Hurricane Relief, Charitable Causes
In 2017, Purina donated more than $28 million in products and funds toward hurricane relief services and other charitable causes.
Published: April 12, 2018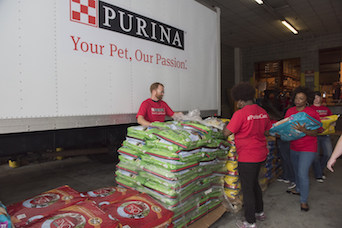 The 2017 hurricane season caused unprecedented amounts of damage and was the most expensive in U.S. history. In fact, it's estimated that our country suffered more than $200 billion worth of damage from the 17 named storms that hit over the course of the season.
In addition to reports of widespread devastation and the immediate need for relief efforts due to these hurricanes, there were also dozens of stories of groups — both big and small — coming together to help those in need. One of those groups was pet product manufacturer
Purina
, which has historically supported animal disaster relief efforts all over the world.
"At Purina, we know firsthand the bond that people share with their pets, which is why we're committed to supporting organizations that share in our mission to enrich the lives of pets and the people who love them," Purina CEO Joseph Sivewright said.
RELATED:
Following last year's three most devastating storms — Hurricane Harvey, Hurricane Irma and Hurricane Maria — Purina worked with its disaster relief partner Rescue Bank, a program affiliated with the international nonprofit
Greater Good
, to provide animal shelters in affected areas with much-needed supplies. The company gave out Purina pet food, cat litter and FortiFlora, a probiotic supplement that helps reduce the symptoms of stress.
Other specific donations Purina made include the following:
(Hurricane Maria) — More than 40,000 pounds of dry dog and cat food was donated to support disaster relief efforts in Puerto Rico and the U.S. Virgin Islands.
(Hurricane Harvey) — Six truckloads of Purina products ­— containing 170,000 pounds of pet food and 74,000 pounds of cat litter — were shipped to animal shelters in affected regions. The company also donated $25,000 to Greater Good to provide support for immediate rescue efforts and rebuilding initiatives for individuals and communities affected by the hurricane.
(Hurricane Irma) — Purina's shelter partner, the Humane Society of Greater Miami, received nearly 1,900 pounds of dog and cat food and 6,000 pounds of cat litter. An additional $25,000 was donated to Greater Good for disaster relief supplies and services to pets and people in anticipation of the hurricane. A portion of that funding was used to transport pets from the Humane Society of Broward County (HSBC) in Fort Lauderdale, Florida — which was directly in Hurricane Irma's path — to Tony La Russa's Animal Rescue Foundation (ARF) in Walnut Creek, California via a private flight.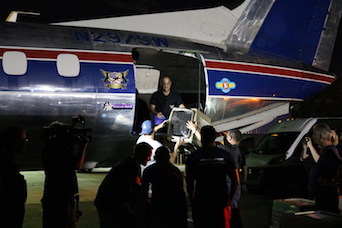 "Thanks to all of these organizations coming together, ARF was able to successfully place 160 adoptable pets into new homes in the Bay Area, creating room at our shelter for those pets displaced by the storm and giving them a chance to be reunited with their local families," HSBC Executive Director Christopher Agostino, said. "Pets contribute to our families in so many ways, and we're grateful for the support of our pet-loving friends across the country who worked together to keep pets safe."
These specific efforts, combined with the other charitable donations Purina made throughout the year to help people, pets and their communities, totaled more than $28 million in 2017 alone. Over the past four years, Purina said it has contributed $120 million toward relief efforts.
"Whether it's providing high-quality nutrition for shelter pets, helping to keep people and their pets together in times of crisis, or protecting the planet we all share," Sivewright said, "we're passionate about these causes and will continue supporting this important work in 2018 and beyond."
Sign up to receive the latest news from veterinary business experts.