Petco's PetCoach Brand Opens First Live Location
In an effort to keep up with competitors like Amazon and PetSmart, the formerly online-only PetCoach—purchased by Petco in April 2017—has opened its first brick-and-mortar location.
Published: July 17, 2018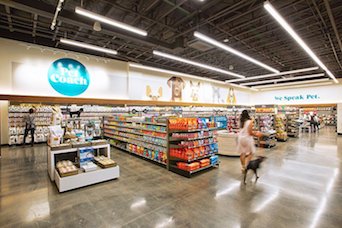 Petco brand PetCoach, which offers online advice and pet health care information from veterinarians and other pet experts, has just opened its first physical location in San Marcos, California. The pilot store is being described as a combination of Amazon Go, the company's cashier-less convenience stores; a pet store; and a veterinary hospital.
For a monthly $9 fee, members can access PetCoach's suite of services, including grooming, training, day care, and full-service veterinary care at deep discounts. In addition, pet owners have access to up to 5 free veterinary visits per year at the on-site clinic.
"With PetCoach, we're reinventing the idea of a traditional 'pet store' by providing complete care experiences…that simply can't be delivered by mail or by a mass retailer," Petco CEO Ron Coughlin said.
RELATED:
The store also offers a small selection of pet care products found in typical Petco stores, all of which the company says have been curated by its team of veterinarians. Unlike Petco, however, PetCoach has no cashiers. Instead, staff members wielding iPads—known as "pet coaches"—walk the aisles to assist shoppers in finalizing purchases, scheduling appointments, and creating personalized care plans for pets.
Pet owners who forgo a PetCoach membership can still use the services but at a higher cost. For example, self-wash stations are $2 for members but $14 for nonmembers.
The PetCoach store is linked to Petco's mobile telemedicine app and website of the same name. The model hopes to attract the growing number of pet owners,
many of
whom are millennials
, who regard their pets as family and opt for shopping online or at boutique stores instead of mainstream retailers.
Sign up to receive the latest news from veterinary business experts.