Pampered Pet Trends for 2018
More than $6 billion is spent each year on pet services like grooming and boarding. Here's how we predict some of those funds will be spent in 2018.
Published: January 07, 2018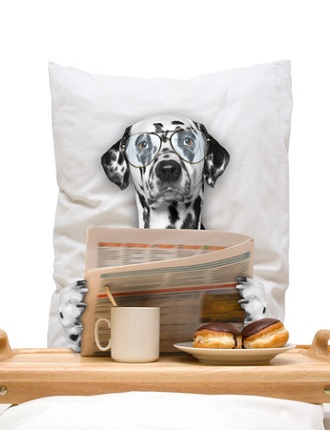 An estimated
$69.36 billion
was spent on pets in 2017, and about $6.11 billion of that estimate was allocated to pet services, such as grooming and boarding. Spending has continued to increase as more and more pet owners consider their cats and dogs as valuable as any other member of the family.
How will pet parents pamper their pets this year?
Because pet owners only want the best for their furry babies, we predict mobile pet grooming, exclusive pet hotels and technological pet innovations will grow in popularity. Look for some of these pampered pet trends in 2018.
Mobile Pet Grooming
Spa days for pets were
all the rage last year
, and this year will be no different — with the exception of one update. Instead of pets going to the boutique, the boutique will come to them.
Pet owners live hectic lives. And when the end of the work week rolls around and Fluffy still hasn't received her much-needed "pawdicure," it's sometimes just too much of a hassle to drive her across town. It's for reasons like this that mobile pet grooming businesses have been growing rapidly.
In addition to the rising popularity of
mobile veterinary practices
, pet owners will also be looking for convenient, easy ways to pamper their pets without leaving home. And mobile pet groomers do just that by providing pet owners with an easier way to pamper their pets, especially if the cat or dog is anxious or fearful when traveling, aggressive around other pets at grooming facilities or has limited mobility.
Exclusive Pet Hotels
Gone are the days of traditional kenneling and boarding — 2018 will be the year of luxury dog hotels and posh pet resorts.
Pets no longer have to be locked in cages all day, surrounded by other barking or meowing pets, while their owners are away. Instead, pet owners have the option to utilize pet-only hotels, where pets get a suite or spacious room all to themselves.
We will also see more human hotels becoming pet-friendly throughout 2018. Since the number of pet owners traveling with their furry friends has been consistently increasing over the past few years, hotels will need to fall in line with the trend. We also predict that hotels will incorporate pet-specific services as add-ons, much like the
suite pampered pooch package
the Ritz-Carlton in San Francisco already offers its guests.
Pet Technology and Innovations
The surge of pet technology will undoubtedly spill over into the pet pampering industry this year as well. While there are already numerous products on the market to monitor the health and activity of your pet, such as the
WonderWoof Dog Activity Tracker BowTie
or
water-resistant Poof Pea
, there will be a new crop of products focused on additional ways to cater to pets.
For example, pet owners want their fluffy friends to be comfortable and warm — especially after a long day of pampering. Inventions similar to the
Dog Gone Smart's Zip n Dri
, which dries a dog's coat four times faster than the average towel, will ultimately flood the boutique pet industry market.
And who could forget the stressful task of nail trimming? While the technology to clip and file pets' nails has vastly improved over the years, we predict new technology will make this process even simpler and less stressful.
Keep a lookout for what's yet to come in the pet technology world.
Sign up to receive the latest news from veterinary business experts.