Nonprofit Provides Funding for Urgent Veterinary Care
Vet-I-Care works with veterinarians and pet owners to provide funding for urgent veterinary care. The group hopes its services will help to decrease pro bono work, animal surrenders and euthanasia.
Published: July 03, 2018

Financial barriers are a leading cause of animal surrenders and euthanasia in the United States, but one nonprofit organization is hoping to change that. Created by NorthStar VETS in New Jersey — but available nationwide — Vet-I-Care works in conjunction with treating veterinarians to provide funds to families who need assistance paying for needed veterinary care.
Since 2004, Vet-I-Care has provided funds to more than 1,000 families.
"Why should veterinarians euthanize a pet or do free work when this money is out there?" asked Maria Lutz, president of Vet-I-Care. "There are few things in life that are a win-win, but this is one of them."
RELATED:
How Clients Receive Funding
Veterinarians can direct clients in need of financial assistance to the
Vet-I-Care website
to download an application. Once the necessary information is received, a representative from the foundation speaks with both the pet owner and the veterinarian to confirm that the case meets the following criteria:
The animal is a family-owned pet with a good history of routine care with a general veterinarian.
The illness, injury or condition must be a treatable, yet urgent, with a good prognosis following treatment.
The treating veterinarian will accept payment from Vet-I-Care.
The family is able to pay the remaining balance for treatment once Vet-I-Care has made its donation.
Due to the urgency surrounding the cases brought to the attention of Vet-I-Care, families are often able to receive rapid confirmation about their application. The actual grant amount is decided on a case-by-case basis and fund availability.
The organization also provides money to offset the costs of cancer treatments through its subsidiary, Erin's Hope Fund. Via the same application process, pet owners can apply for up to $1,000 ($250 per treatment) for chemotherapy and radiation therapy.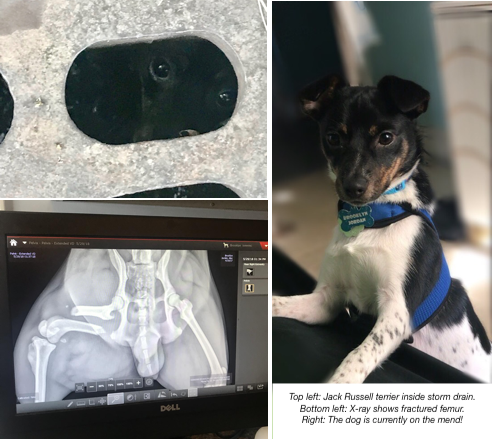 It's not only the pet owners who win once funding is approved. For veterinarians, Vet-I-Care's director Eileen Schuck explained, "this is going to keep a pet alive and you're going to have a loyal customer thereafter."
Memorable Clients
Both Schuck and Lutz recently appeared on a local New Jersey news program with one of their recent cases, Primo, a French bulldog suffering from disk disease that led to hindleg paralysis. With support from Vet-I-Care, Primo received a hemilaminectomy and was walking again the very next day.
Over Memorial Day weekend, Schuck received a frantic call from a pet owner whose one-year-old Jack Russell terrier escaped his harness and was swept into a storm drain on the side of the road. The dog was rescued by police but was left with a broken femur — an estimated $6,000 repair. Vet-I-Care was able to approve the pet owner's application quickly and the dog is now recovering nicely.
"Veterinary medicine, like human medicine, is becoming so advanced, but it comes at a cost," Lutz said. "We have many examples of situations where pets probably would have been euthanized because without treatment they couldn't function. We're here for life-saving surgeries. These pets would no longer be here."
Sign up to receive the latest news from veterinary business experts.