UPDATE: New Jersey Becomes First State to Ban Wild Animal Circus Acts
Known as "Nosey's Law" the ban is named after a 36-year-old African elephant with arthritis that suffered abuse while traveling the country with a circus.
Published: December 18, 2018
UPDATE
(December 17)—Nearly a year after similar legislation was left unsigned by former New Jersey Governor Chris Christie, New Jersey has become the first state to officially ban the use of use of wild and exotic animals in traveling acts.
Known as "Nosey's Law" the ban is named after a 36-year-old African elephant with arthritis that suffered abuse while traveling the country with a circus. After signing the legislation, Gov. Phil Murphy said he was proud New Jersey will no longer allow animals to be exploited and cruelly treated within the state.
"These animals belong in their natural habitats or in wildlife sanctuaries, not in performances where their safety and the safety of other is at risk," he said.
While New Jersey's bill bars the use all wild or exotic animals in traveling animal acts—including carnivals, circuses, petting zoos, and related events—similar legislation has been instituted in New York and Illinois that specifically bans the use of elephants in traveling or entertainment acts.
---
UPDATE
(January 15) — New Jersey Governor Chris Christie signed more than 100 bills into law on his last day in office, but the proposed ban on the use of elephants and other exotic animals in traveling circuses was not one of them.
This means that the governor has issued a "pocket veto" on the bill, which would require the measure to start the legislative process all over again from the beginning. Then, ultimately, the same bill would end up on the desk of incoming New Jersey Governor Phil Murphy for his signature.
Luckily, the bill was already
reintroduced in the Assembly
on Jan. 9, which kicks off the legislative process again.
Gov. Chris Christie also declined to sign more than 50 other bills on his last day that would also need to restart the legislative process.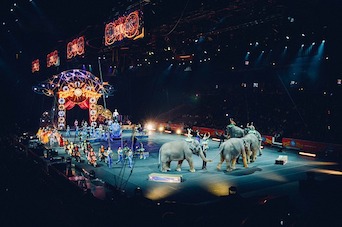 ---
(January 9) — New Jersey may take the lead as the first U.S. state to ban the use of exotic animals in circuses, following the footsteps of more than 40 countries around the world with national circus prohibitions.
Nosey's Law
, which prohibits the use of elephants and other wild or exotic animals in traveling circus acts, passed in the NJ assembly (66-2) and senate yesterday (31-0) and is now on its way to Governor Chris Christie's desk for approval.
Animal activist groups are ecstatic about the unanimous support throughout New Jersey's government entities. "The overwhelming evidence shows wild animals suffer in traveling circuses," said Christina Scaringe, general counsel for Animal Defenders International, an international animal rights campaigning group, "and New Jersey's action today recognizes this."
The bill, proposed by NJ Senator Raymond Lesniak and sponsored by NJ Assemblyman Raj Mukherji, is named in honor of Nosey, an elephant in the middle of a lawsuit between authorities and her handler, Hugo Liebel.
RELATED:
"Nosey is an elephant who is virtually crippled by arthritis, and who is forced to travel the country to give rides at fairs, flea markets and other events," wrote Lesniak when he first introduced the bill.
Nosey was found tightly chained up, without proper shelter and confined in her own waste when Alabama authorities seized her. The elephant is currently awaiting the lawsuit verdict at an animal sanctuary in Tennessee.
"The arthritis has likely caused Nosey unnecessary suffering and permanent disability, and reports indicate that Nosey has been denied necessary veterinary care," he wrote.
While New York and Illinois have both banned all traveling elephant acts, New Jersey would make its mark as the first U.S. state to decidedly prohibit all animal circus acts if the bill is signed. If the law passes, it may be enough for other states to also act — more than 80 U.S. jurisdictions in 31 states have taken action to restrict wild animal circus acts.
"We are delighted that New Jersey made this historic step to end circus suffering, and we call on other states and the federal government to follow their lead," Scaringe said.
Sign up to receive the latest news from veterinary business experts.