New Telemedicine App Connects Veterinarians with Behaviorists
Created by the University of Pennsylvania School of Veterinary Medicine, this web-based app allows veterinarians to consult directly with board-certified behavior specialists.
Published: July 06, 2018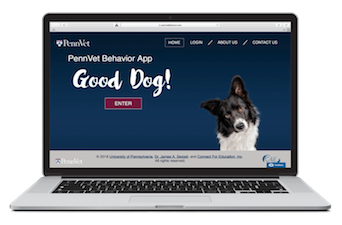 Although the pool of veterinary behaviorists throughout the country is estimated at just 75, the work they do is meaningful. From analyzing aggression to deciphering why a dog obsessively chases its tail, the knowledge and skill they possess is bountiful. Unfortunately, because veterinary behaviorists are spread throughout the country, not all pet owners are able to benefit from their expertise. Until now.
Developed in partnership with Connect For Education, Inc. and the University of Pennsylvania School of Veterinary Medicine (Penn Vet) Center for the Interaction of Animals and Society, the
Penn Vet Behavior App
is a consultation service available to veterinarians both nationally and internationally. The platform allows veterinarians to consult directly with Penn Vet board-certified behavioral specialists to gain expert guidance they can then share with their clients. The current product focuses on canine behavior.
"This is primarily a consulting service for veterinarians," James Serpell, BSc,
PhD,
the Marie A. Moore Professor of Ethics and Animal Welfare at Penn Vet, said. "It's a mechanism allowing veterinarians who may not have specialized training in behavior to treat their clients' dogs who have behavior problems."
RELATED:
The new web-based app has a login for veterinarians to communicate directly with Penn Vet specialists. There is also a client-facing component that allows pet owners to upload videos of their pets for evaluation. Pet owners will also have the ability to access educational resources that have been curated by Penn Vet and participate in chats with experts to get their questions answered.
"It's not the same service as a full behavior consult at the hospital would be, but it's going to meet a need that isn't being met for a lot of pet owners," explained Carlo Siracusa,
DVM
, PhD, MS, who directs the behavior service at Penn Vet's Ryan Hospital.
And while Penn Vet has no illusions that the app will replace the value of a true one-on-one consultation with a veterinary behaviorist, it does offer an accessible, affordable service to pet owners and veterinarians with concerns.
"Let's say a client is having trouble with their dog biting," Dr. Siracusa said. "We may be able to see a specific body language that the owners should be aware of to prevent a bite and can say, 'When you see this behavior, you should remove your dog from the situation.'"
The current pilot launch is underway, which allows invited veterinarians to use the portal for six months without paying a fee. Penn Vet is planning a wider rollout later this year and hopes to launch a feline version as well.
Sign up to receive the latest news from veterinary business experts.