STATE NEWS: New Jersey Bill Would Allow Pets in Breweries
New Jersey's microbrewing industry is growing at a rapid pace, but one law — which doesn't allow dogs inside these establishments — might be holding these businesses back.
Published: June 26, 2018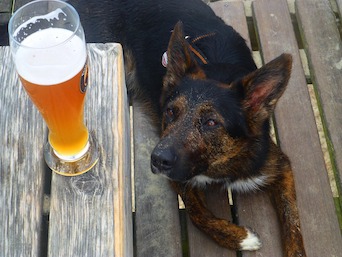 There are now more than 100 craft breweries open for business across the state of New Jersey. But none of these breweries are open to dogs because of a current state law that recognizes breweries as retail food establishments.
"The wording of breweries as 'retail food establishments' is confusing, as breweries already are not allowed to serve food, so this classification is inherently wrong," wrote the leaders of an
online petition
asking for politicians to allow pets in New Jersey breweries.
Luckily, a local politician is listening to what the supporters of this petition are saying.
Senator Mike Doherty has introduced
S2753
to allow dogs in the sampling and tasting areas of craft breweries across the state.
RELATED:
"We've heard from brew pub operators that many customers who stop in for a tasting have their dogs in tow," Doherty said, "which creates conflict with public health officials who don't like pets in establishments where food or drink is consumed."
The new bill would allow owners to bring their dogs into microbreweries, but not in areas of the establishments where items produced for consumption might be contaminated. It also states that staff members of the craft brewery are not allowed to have any direct contact with dogs while on duty, but if they do, they are required to promptly wash their hands.
Dogs allowed inside the brewery must also either be on a leash or confined in a pet carrier.
"New Jersey's microbrewing industry is growing at a rapid pace," Doherty said, "but it needs our support to continue expanding."
The online petition states that business owners in New Jersey should be able to choose how they run their own businesses because small business is what drives communities.
"We ask that the state lawmakers review the current law, realize that there is a major difference between what a 'retail food establishment' does and what we actually do at breweries across the state," the petition continues.
The new bill has been referred to the Senate Law and Public Safety Committee for further comment.
Sign up to receive the latest news from veterinary business experts.