New Federal Law Aims to Protect Pets of Domestic Violence Victims
The PAWS act strengthens federal regulations to protect the pets of domestic violence victims.
Published: January 02, 2019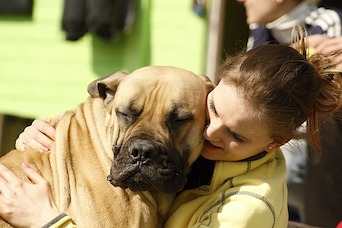 Since 2014, domestic violence and animal welfare advocates across the country have pushed for versions of a bill that would create stronger federal laws to protect victims of domestic violence by offering protection for their pets, too. One monumental step in this fight came to fruition when President Donald Trump signed the
Pets and Women Safety (PAWS) Act
into law, with bipartisan support, as part of the Farm Bill.
The link between
animal abuse and domestic violence
is well documented. As many as 85% of women residing in domestic violence shelters report that their pet was also harmed by their abuser. Still, survivors struggle with leaving their abusers because finding shelter for their beloved pets is often difficult or impossible.
The PAWS Act mimics legislation already in place in more than 30 states. However, the bill is considered a monumental victory because it expands on existing federal laws to protect "victims of domestic violence, sexual assault, stalking, and dating violence from emotional and psychological trauma caused by acts of violence or threats of violence against their pets." The act also creates an amendment to the definition of stalking to include "conduct that causes a person to experience a reasonable fear of death or serious bodily injury to his or her pet." These provisions provide law enforcement with additional tools for protecting victims and their pets from abusers.
RELATED:
In addition to language that establishes orders of protection, the PAWS Act will institute a federal grant program to assist victims in finding safe shelter for pets when they leave domestic violence situations. Some shelters currently provide or assist with finding housing or foster care for animals—and earlier this year the
first domestic violence shelter designed to accommodate pets
opened in New York—however, the need for pet sheltering often exceeds the supply. As a result, as many as 48% of battered women responding to surveys said they had delayed leaving a dangerous situation out of concern for their pets' safety.
As part of a grant program, PAWS aims to aid in the construction and operating expenses of new or existing pet shelter and housing. The grant program also supports short-term shelter and housing assistance, such as expenses incurred for the temporary shelter, housing, boarding, or fostering of the pets of domestic violence victims.
The act will also require the coverage of veterinary costs in restitution for domestic violence cases involving abuse against pets.
"No one should have to make the choice between finding safety and staying in a violent situation to protect their pet," said Rep. Katherine Clark of Massachusetts, who co-sponsored the bill. "For most pet owners, including me, their dog or cat is a part of their family and this law empowers survivors with the resources to leave a dangerous situation while being able to continue to care for their family. I'm grateful for the partnerships we've formed between organizations working to end both domestic violence and animal abuse. Together, we crafted a bill that will help save lives."
Sign up to receive the latest news from veterinary business experts.