New Campaign Stresses the Importance of Pet Obesity Discussions
Royal Canin's new campaign to curb pet obesity through client education highlights the impact of the client-veterinarian relationship on pet health.
Published: June 06, 2018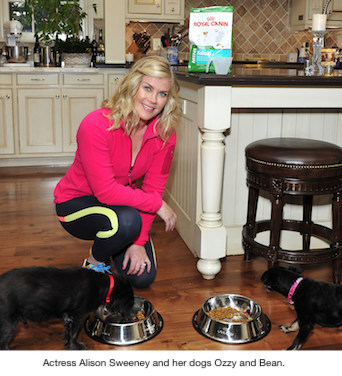 Last week, Royal Canin announced it had partnered with Alison Sweeney — health advocate and former host of "The Biggest Loser" — to promote its new Fight the Beg initiative. The campaign hopes to raise awareness about the consequences of overfeeding by encouraging pet owners to resist rewarding pets with food when they beg. The pet food company also recommends that pet owners speak with their veterinarian about their pet's ideal weight and how to control begging during the weight loss process.
Pet obesity is an ongoing problem that affects a significant and growing number of companion animals. And chances are, a hefty portion of your patients could benefit from shedding a few pounds. In fact, results from the most recent Association for Pet Obesity Prevention survey found that
pet obesity in the United States
increased in 2017, affecting 60 percent of cats and 56 percent of dogs.
RELATED:
"As a proud pet owner, I understand the urge to give your cat or dog an extra treat, when in reality, it's probably not what's healthiest for them," Sweeney said. "But just like we need to fight our own temptations when it comes to unhealthy foods, we need to fight the temptation to give in to those adorable begging faces."
Although targeted toward pet owners, Fight the Beg raises an important point: One of the vital components to solving the pet obesity epidemic is the partnership between pet owners and veterinarians.
Initiating the Conversation
In a 2017
study
, a team of Canadian investigators sought to understand how veterinarians and cat owners interacted during clinical examinations when obesity was discussed. By analyzing video footage of 25 feline appointments, the team uncovered various inconsistencies in the ways veterinarians and their clients approached the topic of diet. For instance, whereas veterinarians focused on a diet's brand and perceived quality, clients discussed the food's shape, flavor or ingredients.
They also found that clients became resistant during appointments if they did not agree with the veterinarian's viewpoint. When met with resistance, some veterinarians altered their communication strategy. Many times, this meant that they at least partially abandoned offering recommendations.
Through their study, the authors proposed several recommendations for veterinarians to better facilitate obesity discussions:
Share thoughts out loud with the client to encourage a discussion of perspectives.
Consider the patient and the client when developing a weight-loss plan.
Be intentional when asking about a client's home environment and perspective.
Provide clear direction to clients regarding weight-loss plans and assessments.
Dr. Mueller's Tips For Fighting the Beg
As part of its campaign, Royal Canin enlisted Eric Mueller, DVM, owner of Noah's Bark Mobile Veterinary Services in Georgia, to offer pet owners tips and advice on how to fight the beg and help pets reach and maintain healthy weight goals. His advice — which can be shared with your own clients — includes:
Understand that although resisting a begging pet is difficult, giving treats may lead to overfeeding.
Recommend portion amounts that clients can measure at every feeding.
Encourage exercise — anything from brief periods of play to long walks.
Remind pet owners that their personal motivation and commitment are critical to the success of their pet's weight loss program.
"Whether it be for training purposes, or to simply show their pet affection, it's important for pet owners to be aware of how much is too much when overfeeding their cat or dog," Dr. Mueller said. "We find that it is very common for families to simply not know what the ideal weight looks like for their pet."
Sign up to receive the latest news from veterinary business experts.