New Campaign Hopes to Find Homes for 10,000 Rescue Animals
With the help of the navigation app Waze, Best Friends Animal Society hopes to help 10,000 companion animals find forever homes in 10 days.
Published: June 27, 2018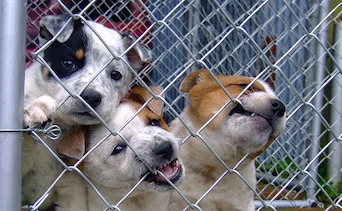 The dog days of summer might be the perfect opportunity to adopt a dog (or cat). This is the concept behind a new campaign pairing Waze, a navigation app, with Best Friends Animal Society, a national animal welfare organization.
In an update to their app — which began Monday and will end July 4 — Waze now features paw prints on its maps representing every adoption center location in the United States. When users of the app are stuck in traffic, additional information will appear on their mobile phone screens in an effort to connect potential adopters with a participating adoption location.
The goal of this new campaign is to help 10,000 companion animals across the country find forever homes in just 10 days.
RELATED:
Waze users can also intentionally look for nearby animal adoption centers by searching "Best Friends" on Waze and then navigating right to the closest shelter. To coincide with the campaign, participating animal rescues in the Best Friends Network Partners are waiving fees on all pet adoptions. According to the animal welfare organization, shelters are inundated with dogs and cats during the summer months. For example: Daily shelter intake in July generally increases 20 percent in Los Angeles and 27 percent in New York City.
Even if you're not looking for a new furry friend, it's still possible to help out animal shelters in your area. Best Friends Animal Society's "Save Them All" campaign is asking animal lovers to donate $25 to cover the adoption fee for one pet in the group's network.
"If you get excited when a stranger pays for your coffee, imagine the joy you'll bring to someone who is ready to adopt their next best friend and finds out the adoption fee has been covered," Best Friends Animal Society CEO Julie Castle said.
Sign up to receive the latest news from veterinary business experts.