Meet the 2018 Veterinary Student Innovation Award Winners
Merck Animal Health, in partnership with the American Veterinary Medical Foundation, has awarded 28 veterinary students for their innovation, creativity and entrepreneurial spirit.
Published: June 25, 2018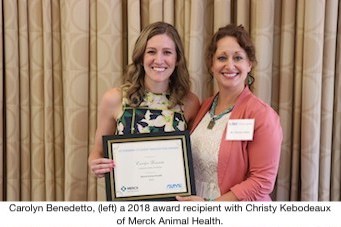 Merck Animal Health recently announced the winners of the 2018 Veterinary Student Innovation Awards.
The inaugural award was created to recognize graduating seniors at each American Veterinary Medical Association —accredited veterinary school in the United States and Canada. The student winners demonstrated innovation, entrepreneurship and creativity in developing an inspirational project or product. The awards were presented in partnership with the American Veterinary Medical Foundation (AVMF).
RELATED:
"We are pleased to recognize and support these outstanding veterinary students," said Jan K. Strother, DVM, chair of the AVMF board of directors. "Not only have these students displayed entrepreneurial spirit, initiative and creativity, but they are also making a positive difference in their communities and in our veterinary profession."
Examples of projects developed by recipients include:
Vets for Vets, which provides rehabilitation for retired military and police dogs.

The VOICE (Veterinary Students as One in Culture and Ethnicity) program, which introduces minority high school students to the health sciences through hands-on activities and interaction with current health science students.

Development of a surgical assist device to improve equine colon evacuation.
"At Merck Animal Health, we believe in the science of healthier animals," Scott Bormann, Merck Animal Health's vice-president of North America, said. "Part of what drives that science is the identification of new challenges and the development of initiatives to address them in our ever-changing industry."
Following are all of this year's award recipients:
Carolyn Benedetto, Louisiana State University
Amanda Carlson, Virginia-Maryland College of Veterinary Medicine
Meredith Chamberlain, University of Prince Edward Island
Caitlin Conner, Texas A & M University
Akaterina Davros, Kansas State University
Matthew Robert DiFazio, Cornell University
Wendy Evans, University of Missouri
Anika Farina, Tufts University
Shannon Finn, University of Guelph
Maryanne Miko Flasik, Colorado State University
Mackenzie Gallegos, Michigan State University
Nicolas Gendron-Parra, University of Montreal
Shannon Gildersleeve, University of Wisconsin
John Griffeon, North Carolina State University
Courtney Griffin, Mississippi State University
Nicholas Hall, Washington State University
Lindsey Knox, University of Minnesota
Laura MacIntyre, Oregon State University
Max Manse, University of California - Davis
Kayla Mehan, Lincoln Memorial University
Samantha Morici, Auburn University
Kara Negrini, Purdue University
Dustin Ong, Western University
Ruben Pabon Padin, The Ohio State University
Chelsea Ruston, Iowa State University
Rayeann Solano, Midwestern University
Richard Blaine Sparks, University of Tennessee
Suzanne Wilson, University of Illinois
Sign up to receive the latest news from veterinary business experts.