Link Between Pet Ownership in Childhood and Vegetarianism
Researchers believe that children who grow up with a variety of pets are more likely to adopt a vegetarian diet as adults.
Published: May 04, 2018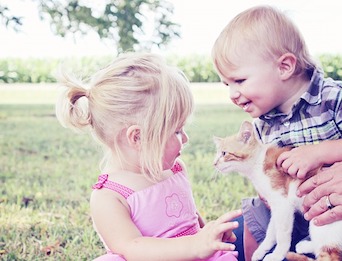 Ask vegetarians why they have chosen a plant-based diet and the answers will likely be varied — and probably passionate. But perhaps the reasoning behind the lifestyle choice isn't so diverse after all.
A study conducted at the State University of New York at Albany revealed a common link: Children who grow up with companion animals are more likely to become vegetarians in adulthood. The study findings appear in the April issue of
Appetite
.
"Past research has suggested that closeness to a childhood pet is the key factor that predicts increased empathy and vegetarianism in adulthood," said Julia Hormes, an assistant professor of psychology at the university and one of the investigators in the current study. "Our findings suggest that there may be more than one pathway to vegetarianism in adulthood — the number of pets in childhood, ethical concerns towards animal use, and level of vegetarianism is significant."
In a related 2014 study, also published in
Appetite
, two researchers from Bellarmine University in Louisville, Kentucky examined how attachment to childhood pets affected meat avoidance in adults. The findings, based on 273 individuals responding to an internet survey, revealed that participants with greater childhood attachment to a pet reported greater meat avoidance in adulthood.
RELATED:
For the current study, Hormes, along with graduate student Sydney Heiss,
surveyed a self-selected convenience sample of 325 participants (77.2% female; mean age = 30.23 ± 12.5 years) who were solicited through food-focused social media pages. As part of the survey, participants provided their demographic information and whether they followed any type of vegetarian diet. The participants were asked about their lifestyle and dietary choices as adults, relationships with childhood pets, and how they felt about the exploitation of animals.
After a statistical analysis of all responses, the team concluded:
People who owned companion animals as children were significantly more likely than those without pets to follow a vegetarian or vegan diet as adults.
Participants who owned a variety of pets — hamsters, dogs, and cats, etc. — were more likely to avoid a wider range of animal products than those who owned just dogs.
Owning a wider variety of pets also led to a stronger opposition toward animal exploitation. This, in turn, led to less animal product consumption.
"It seems as though individuals who had different types of pets more easily empathize with farmed animals or those used in research," Heiss said. "For example, someone who had only a dog may have difficulty feeling empathy for a cow, whereas someone who grew up with farm animals may be more attuned to characteristics that are shared across all species and, therefore, better able to empathize with all animals."
The authors concluded that
future research should be done to further explore exactly how pet ownership and the decision to follow a vegetarian diet are related.
Sign up to receive the latest news from veterinary business experts.