Lawsuit Filed Against 6 Pet Food Companies for Misleading Packaging
A Michigan court recently ruled on a lawsuit in which the plaintiff alleged the packing from six major pet food companies was deceiving customers.
Published: June 12, 2018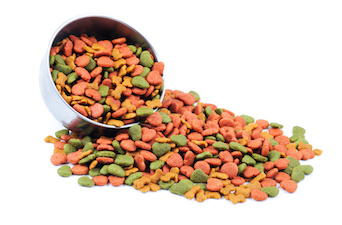 Pet food packaging is just as much a marketing tool as it is informational. Bright colors, images of happy pets and mouth-watering descriptions are all part of the tactics used to get pet owners to choose one bag of kibble over the next. But at what point does eye-catching packaging become misleading?
In a
recent lawsuit
, Wysong Corporation, a Michigan-based pet food retailer, alleged that six of its competitors were deceiving customers by placing photos on bags of kibble that were not accurate representations of included ingredients. For example, a bag of pet food might include an image of a freshly cut lamb chop or premium cuts of meat, when in reality the pet food only contains the trimmings left over after the premium cuts are gone.
The defendants named in the lawsuit were APN, Inc., Big Heart Pet Brands and J.M. Smucker Company, Hill's Pet Nutrition, Mars Petcare, Nestle Purina Petcare and Walmart. Wysong claimed that this misleading marketing was tricking people into purchasing pet food products from these companies.
But did the courts agree?
RELATED:
The ruling from the U.S. Sixth Circuit Court of Appeals concluded that a reasonable consumer would understand that the packaging was indicating the type of animal
from which the food was derived from, but not the precise cut
used.
It was also argued that reasonable consumers understand that marketing involves some level of exaggeration, or what the law calls "puffery." For example, Judge Amul R. Thapar pointed out that a reasonable consumer at a fast-food drive-through does not expect the hamburger he receives to look just like the one pictured on the menu.
Wysong responded that consumers would
not
think the packaging was just puffery because some pet foods do, in fact,
contain premium-quality ingredients. But the corporation's argument was not enough to sway the court's opinion.
Overall, it was ruled that the products in question were dog food, and common sense dictates that consumers would not expect dog food to be made from the same cuts of meat that people eat.
Sign up to receive the latest news from veterinary business experts.