In an App Store Near You: Veterinary Telemedicine
Pet owners can use the Fuzzy Connect app to have an instant virtual conversation with one of the company's veterinarians.
Published: June 28, 2018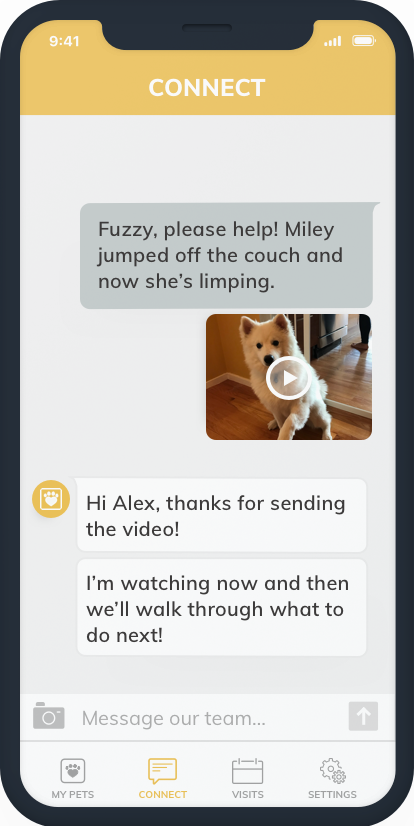 Fuzzy Pet Health, which offers in-home and telemedicine veterinary services in San Francisco and the surrounding areas, announced yesterday that its telemedicine product is now available nationwide.
Through
Fuzzy Connect
, pet parents from anywhere in the country can communicate directly and in real time with veterinarians to get immediate advice on medical issues or receive behavioral tips. The smartphone app is available on iOS and Android for $10 per month per user. Additionally, if the participating veterinarian recommends a specific diet or supplement, the pet owner can order it directly through the app.
RELATED:
Without a valid veterinarian-client-patient relationship, Fuzzy cannot provide all the same services as an in-person veterinary visit affords, but Fuzzy veterinarians can save pet owners time and money in some cases.
"We give pet parents information on possible causes of what could be going on without diagnosing," explained Robert Trimble, DVM, Fuzzy's co-founder and head of veterinary services. "We provide well-researched, up-to-date and easy to understand educational materials for concerned pet parents to help them make the most medically correct decision for their pets based on the problem at hand, our conversation, and any photos, videos and previous medical history they provide to us."
Fuzzy Pet Health decided six months ago to add telemedicine to its offering for existing clients.
"We saw usage of telemedicine go up dramatically, without us doing anything to encourage it," Dr. Trimble said. "This made it clear to us that there's a lot of value for people here, and that telemedicine can be a critical way in which we live out our mission, which is to make veterinary care more accessible and affordable."
According to Dr. Trimble, the average pet parent visits a veterinarian 1.6 times a year. Fuzzy Pet Health members, on the other hand, seek advice from the company's veterinarians about once a month. "We're excited to expand telemedicine across the country and provide pet parents the peace of mind and education that come with easy and unlimited access to high-quality care."
Sign up to receive the latest news from veterinary business experts.