HSVMA Compassionate Care Veterinary Student Scholarship
Passionate about animal welfare, animal rights or animal protection issues in veterinary medicine? Apply for this year's Compassionate Care Veterinary Student Scholarship.
Published: April 11, 2018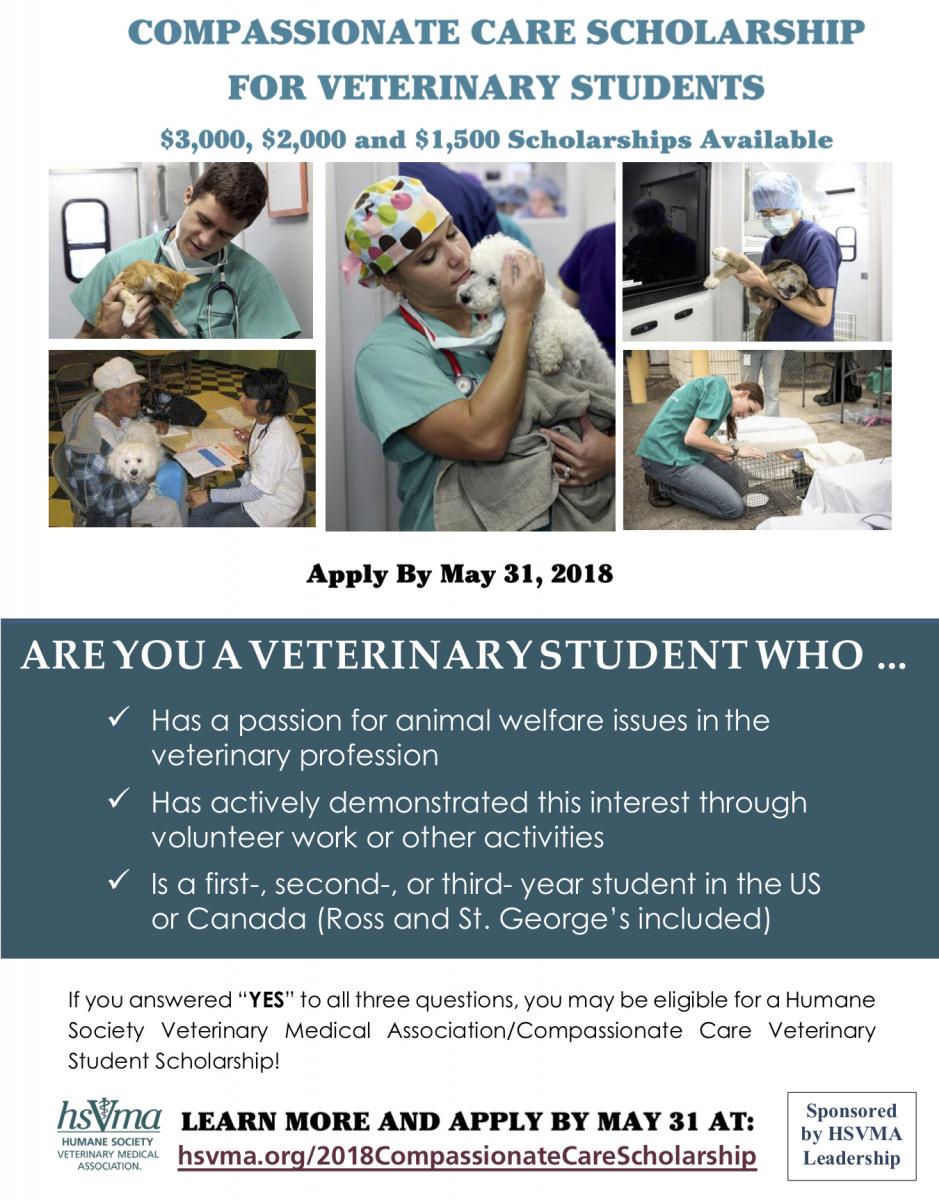 Are you a veterinary student who:
has a passion for animal welfare issues?
has actively demonstrated this interest through volunteer work?
is a first-, second- or third-year student?
Then you may be eligible to receive this year's Humane Society Veterinary Medical Association (HSVMA) Compassionate Care Veterinary Student Scholarship.
Since 2016, this scholarship has recognized veterinary students who have demonstrated an interest in and commitment to animal welfare issues. HSVMA Board Member Gary Block, DVM, initiated the program because he knew how truly special the students who were capable of devoting significant time and effort to animal welfare issues were, especially when going through an intensive four-year veterinary curriculum.
"This scholarship is a small effort to acknowledge and encourage those students who feel strongly enough to try and make a tangible difference in the lives of animals through educational, direct care and legislative efforts," Dr. Block said.
This year, students can apply to receive one of three different scholarship amounts: $1,500 for third place, $2,000 for second place and $3,000 for first place.
These scholarships are generously supported by Dr. Block, as well as Barry Kipperman, DVM, DACVIM, Paula Kislak, DVM and Carrie Waters, DVM, PhD, DACVIM (SAIM).
Veterinary students from AVMA-accredited veterinary schools in the United States and Canada — including Ross University and
St
.
George's
University School of
Veterinary Medicine
— are welcome to apply. Applicants are required to complete the
provided form
and include a copy of their current transcript, two letters of recommendation (one from a veterinary school professor or clinician), a statement of intent and a list of activities and/or honors.
Hurry — the deadline for applications is May 31!
Sign up to receive the latest news from veterinary business experts.