How Much Will Pet Owners Pay for Treatment?
The spending habits of pet owners were analyzed to determine whether dog owners or cat owners were more likely to pay for common medical treatments.
Published: September 28, 2018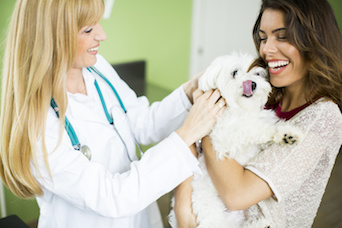 Treatment for many common veterinary conditions can be expensive, and while every veterinary team strives to provide the best possible care for their patients, not all owners are willing—or able—to pay for that care. A
recent study
conducted by the personal finance comparison website LendEDU examined the likelihood that a pet owner would opt to treat common conditions in their pets.
The study focused on the 10 most common ailments for which dogs and cats are treated according to
pet insurance company Trupanion
. The information was analyzed to determine the average cost of these conditions, including 3 conditions for which both cats and dogs present. The data were complemented by a survey of 833 pet owners to determine the percentage who would be willing to treat their cat or dog for one of the common conditions.
RELATED: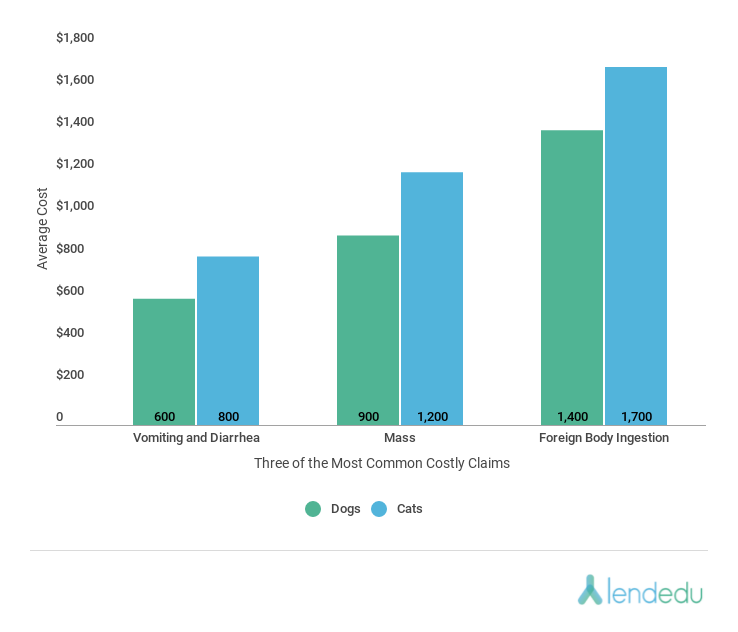 The Cost of Common Veterinary Conditions
Because dogs tend to be bigger, play more roughly, and get into more trouble, many owners mistakenly believe that a dog's veterinary bills generally would be higher that a cat's. In reality, however, the average cost of treating common feline conditions is several hundred dollars more
than treating common canine conditions.
For example, many veterinarians included in the study's analysis charged $800 to treat a cat that presents with vomiting and diarrhea, as opposed to $600 for a dog. Foreign body ingestion cost $1700 for a cat and $1400 for a dog. Treatment for a cat with a mass runs about $1200 compared with $900 for a dog with the same issue.
Across the board, cat owners received a bill that was about $267 higher than dog owners for the same condition. The disparity in cost may be a reason why some cat owners are less likely than dog owners to treat common medical conditions.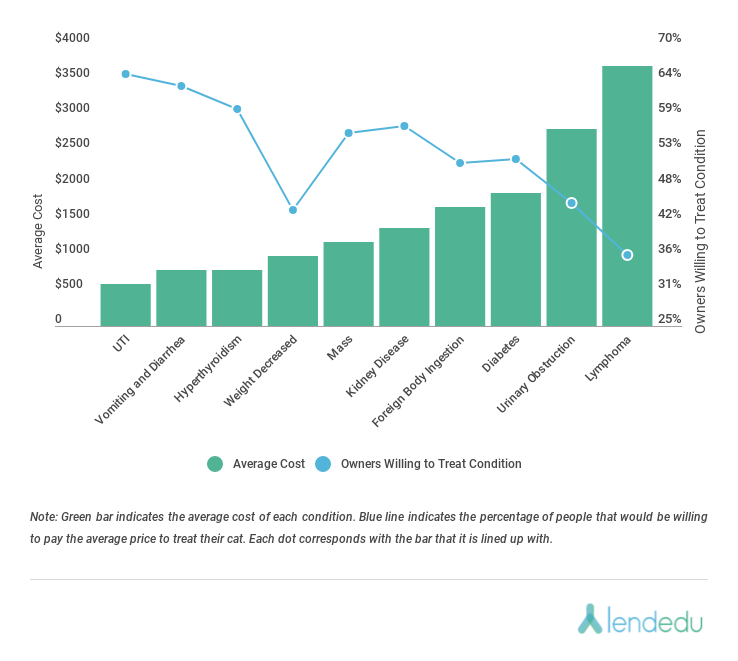 How Willing Are Cat Owners to Pay for Treatment?
As a general rule, the willingness of cat owners to pay for treatment of common medical conditions decreased sharply as the cost of the intervention rose. For example, 64% of cat owners surveyed would treat a urinary tract infection (average cost, $500), but just 36% of cat owners would pay for lymphoma treatment (average cost, $3700). Perhaps most surprisingly, many cat owners were less willing to treat a weight decrease (42%) than hyperthyroidism (59%), despite there being a relatively small difference of $200 between the average cost of the 2 treatments.
Ultimately, whether cat owners are willing to treat their pet for a common condition depends on a number of factors. These survey results suggests that cost is a significant issue for many cat owners, even for relatively simple, easily treated conditions.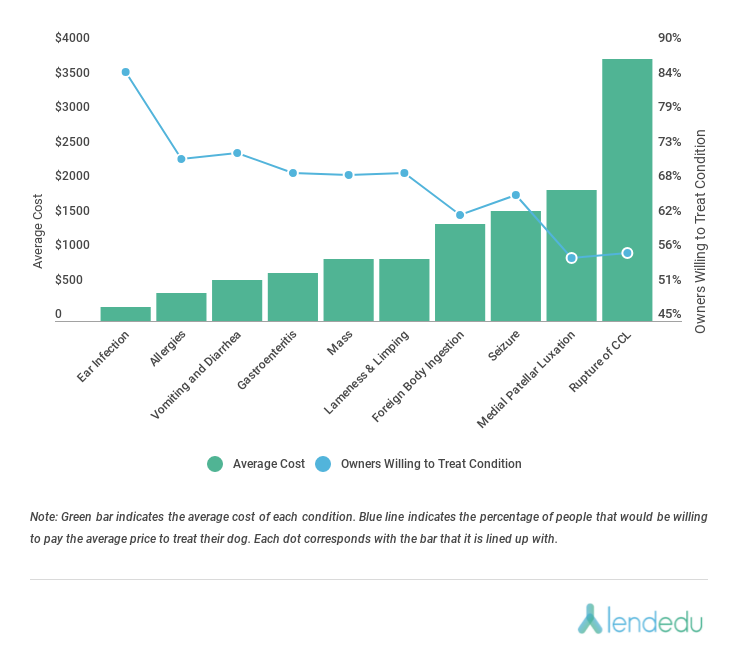 How Willing Are Dog Owners to Pay for Treatment?
Similarly, dog owners are less likely to treat ailments as the cost of treatment rises. Whereas 84% of dog owners would pay for treatment of a relatively inexpensive ear infection (average cost, $200), only 56% would pay for anterior cruciate ligament rupture repair (average cost, $3800). Over 65% of dog owners would treat a seizure ($1600), but only 55% would treat medial patellar luxation ($1500).
As with cats, the more expensive a treatment was, the less willing pet owners were to pay for it. However, dog owners seem to be more willing to pay for treatments that will increase their dog's quality of life, even as cost remains a major concern.
Are Cat Owners or Dog Owners More Willing to Treat Their Pets?
While data on the separate conditions for dogs and cats is useful, the more illuminating information can be found in an examination of conditions that are common to both dogs and cats: vomiting and diarrhea, masses, and ingestion of a foreign body. Across the board, dog owners were 11% more likely to treat these conditions than cat owners.
Pet Insurance Can Help
Of course, these data only tell a fraction of the story. As every veterinarian knows, when a pet owner walks into your hospital, he or she isn't just bringing a dog or a cat, but a member of the family. Cost is a major issue for many people, which raises the question of how practices help pet owners better prepare for the cost of veterinary care.
Pet insurance
is an excellent way to do that.
---
Mr. Brown is a research analyst at LendEDU. In his role, Michael uses survey and public data to identify emerging personal finance trends and tell unique stories. Whenever he has some free time, Michael enjoys resting with his 15-year-old cockapoo Bosco or brushing up on his US and Roman history.
Sign up to receive the latest news from veterinary business experts.