Honoring Those Who Serve: Courageous Military Dogs
These nine dogs received top military honors for their heroic work.
Published: March 13, 2018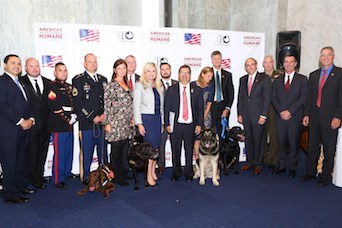 Earlier this year, a German shepherd-husky mix named Chips was posthumously awarded the People's Dispensary for Sick Animals' (PDSA) Dickin Medal — Britain's highest honor for animal bravery — for his actions during a 1943 beach landing in Sicily, Italy.
This is not the first award Chips has received for his service. In fact, Chips was the most decorated dog hero of World War II and remains the only canine to ever receive a Purple Heart. Chips served as a tank guard dog, traveling throughout Europe, Africa and Italy with General Patton's Seventh Army. He was also a guard dog at The Casablanca Conference, a meeting between President Franklin D. Roosevelt and British Prime Minister Winston Churchill.
The event that best exemplifies his gallantry was a battle during the invasion of Sicily, when Chips broke away from his handler and attacked a machine-gun nest, enabling his handler to capture enemy soldiers. On another patrol that same day, he helped capture 10 more enemy combatants. Chips sustained injuries from the attack and was honorably discharged and returned to the New York family who had donated him to the war effort.
Chips leads a pack of courageous canines that have been awarded various distinguished awards for their service.
RELATED:
Other Dickin Medal Recipients
Considered worldwide to be the animal equivalent to the prestigious Victoria Cross, the PDSA Dickin Medal has been awarded 70 times since 1943. To date, the recipients comprise 33 dogs, 32 pigeons, 4 horses and one cat. While the vast majority of the recipients hailed from the UK, there is a standout group of American recipients.
Appollo, 2001
Appollo is well-known as the first dog to arrive at the World Trade Center following the events on September 11, 2001. This German shepherd served with the K-9 unit of the New York Police Department as a search and rescue dog and spent several days at the site looking for survivors. He was awarded the Dickin Medal in honor of all the dogs who helped in the rescues after the attack.
Salty and Roselle, 2002
Salty and Roselle, both yellow Labrador retrievers, were heroic guide dogs who, despite the chaos, calmly led their blind owners to safety from the World Trade Center buildings on September 11, 2001. In addition to helping their owners, Salty and Roselle are credited with leading many other people out of the buildings and through the streets of Manhattan toward safety.
Lucca, 2016
This German shepard participated in 400 military missions from 2006 to 2012. On March 23, 2012, Lucca was leading a patrol in Afghanistan when she located an
improvised explosive device (IED)
. As she started searching the surrounding area, a second IED exploded, causing burns to her chest and torso and severe injury to her front left leg, which later had to be amputated. Upon her return to the United States, Lucca received widespread acclaim for her efforts and is even the subject of "Top Dog," a book about her life.
American Humane's Lois Pope K-9 Medal of Courage
This annual award is considered
the highest honor for military dogs in the United States. Robin Ganzert, PhD, president and CEO of American Humane, has repeatedly expressed his gratitude for the dogs that are recognized at the yearly ceremonies.
"Soldiers have been relying on these four-footed comrades-in-arms since the beginning of organized warfare and today military dogs are more important than ever in keeping our service men and women safe," Dr. Ganzert said.
Fieldy, 2016
Fieldy, a black Labrador retriever, is a contract working dog who bravely served four combat tours in Afghanistan. While on active duty, Fieldy worked tirelessly to track down explosives and saved many lives. In addition, Fieldy offered meaningful emotional support to his human counterparts — so much so that upon his honorable discharge Fieldy was adopted by one of his wartime comrades.
Isky, 2016
This German shepard had a long and notable career as a military working dog. Included on his resume are various military tours in the Middle East and serving as a guard for four-star American generals and political. During a 2013 deployment in Afghanistan, Isky uncovered a deeply buried 120-pound bomb before it could be detonated. It was during this mission that Isky suffered severe injuries that ultimately led to the amputation of his right leg and subsequent retirement. Upon leaving the military, Isky became a PTSD service dog for U.S. Army Sgt. Wess Brown, who was Isky's handler in Afghanistan.
Coffee, 2017
Coffee started her military career with partner U.S. Army Sgt. First Class James Bennett in 2006, when the chocolate Labrador retriever learned to become a specialized explosives-detection dog. Coffee served three tours of duty in Afghanistan, working with SFC Bennett to locate lethal bombs and other security threats. The dog officially retired in December 2016 and was adopted by SFC Bennett and his family.
Alphie, 2017
This black Labrador retriever completed two tours in Afghanistan, entering villages and clearing them of IEDs and making vital finds of weapons and communications equipment. Upon retiring in 2014, Alphie assumed a new position with airport security for the TSA.
Sign up to receive the latest news from veterinary business experts.