High-Tech Pet Products Unveiled at Electronics Show
Facial recognition feeders and indoor pet toilets are among the products on display at this year's Consumer Electronics Show.

Published: January 10, 2019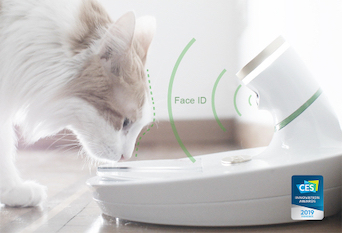 Technology enthusiasts have taken over Las Vegas for
the 52nd annual Consumer Electronics Show (CES)
, the largest in the world. In addition to futuristic robots and major brand announcements, attendees will find high-tech pet products sprinkled among the vendors.
Here are some of the animal-centric tech products generating buzz this year.
Microchip Pet Feeder Connect
Many of the pet products at this year's electronics show are focused on helping owners achieve an optimal diet for their pets. Among them is Sure Petcare's Pet Feeder Connect, which uses integrated scales to create specific portions of food and accurately monitor a pet's feeding behavior. The feeder also works with specific tags that can be affixed to each pet in a multipet home. This prevents pets from stealing each other's food and enables owners to monitor when, how much, and how often each pet eats. The device connects to the Sure Petcare app so users can access all of the collected data on their smartphone.
SureFlap Microchip Cat Door Connect
Also from Sure Petcare, the SureFlap Microchip Pet Door Connect connects with all common microchips to allow pet owners to set individual and remotely changeable entry and exit permissions for each pet in a home. The pet doors come in a variety of sizes with a range of capabilities, including entry and exit notifications, remote lock and unlock features, and timer controls.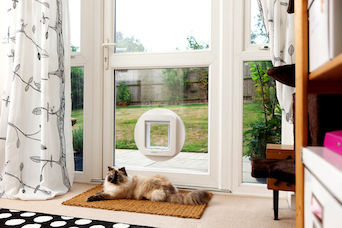 LavvieBot
Cat owners who dread the chore of regularly scooping a litter box might be interested in the LavvieBot, a new smart litter box. Developed by the pet company PurrSong, the enclosed litter box has a self-scooping mechanism that removes waste from the main box at intervals of the owner's choosing. When scooping lowers the level of litter that remains in the box, the device automatically refills with fresh litter. According to the company, the LavvieBot will only need to be cleaned once every 2 to 3 weeks for a single-cat household.
Mookkie Smart Pet Feeder
The Mookkie is the winner of this year's Innovation Award in the Smart Home category at CES for its ability to visually recognize each individual cat or dog in a home and place their prepared food at each pet's disposal. This unique pet feeder uses technology similar to the "face unlock" feature that comes standard on many new smartphones and records images of the animal for which the food is intended so that the right food is dispensed at the right time. The pet feeder also comes with a dedicated smartphone app that provides notifications and short video clips of each pet as it eats.
Inubox
Just as cat owners are not thrilled with scooping litter boxes, dog owners sometimes need a solution for when nature calls. Enter the Inubox, an automated indoor toilet for dogs. The device works by detecting when a dog steps on its platform. Once the dog leaves—presumably after relieving itself—the Inubox senses where waste was left behind and closes the platform so no pets can access the area while the cleaning process takes place. All of the waste removed from the Inubox is put into a sealed bag that the pet owner can dispose of as needed.
Basepaws
Using DNA testing kits to find out which breeds make up a beloved pet's lineage has become increasingly popular among dog owners. Now for the first time, a similar direct-to-consumer product has been designed for cats. Using a cat's hair and cheek cells,
Basepaws
technology provides breed information and related health insights, including nutrition needs and potential diseases the cat might inherit.
Sign up to receive the latest news from veterinary business experts.