Helping Dogs Beat the Heat With Air-conditioned Kennels
These mini-kennels offers pet owners a "cool" alternative to tethering their dogs outside a store or leaving their dogs in hot cars while running errands.
Published: July 07, 2018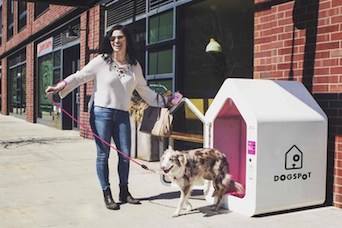 In an effort to combat the increasing number of dogs left in dangerously hot cars and the number of dogs that suffer from
heatstroke
each year, one company has started placing temperature-controlled kennels on the sidewalks in some of the country's warmest cities.
Known simply as
DogSpot
(formerly called Dog Parker), each miniature dog house offers pet owners a safer option for stowing their pets while they run a quick errand. Controlled through a corresponding smartphone app, pet owners can unlock a vacant DogSpot unit and claim it for their four-legged friend. The fee is 30 cents per minute or $19.99 for a monthly membership.
At almost 4 feet high and 3 feet deep, DogSpots are designed to fit dogs of most sizes. In addition to offering air-conditioned surroundings — and heated floors when the temperature drops — each location is equipped with fans to keep the air inside fresh. In between uses, DogSpots use UV lights to kill bacteria, viruses and molds. Perhaps best of all, once a pet owner claims a unit, they can monitor their dog via the app through an interior "puppy cam."
RELATED:
Following a successful pilot program in Brooklyn, New York where 50 DogSpots were installed outside of local businesses, the company is now planning a major expansion of its services.
To date, more than a dozen cities have signed up to have DogSpot locations added to their downtown areas. According to the company, DogSpot will launch in the following cities within the year:
Los Angeles, California
San Jose, California
Washington, D.C.
Orlando, Florida
West Palm Beach, Florida
Boston, Massachusetts
Kansas City, Missouri
Jersey City, New Jersey
New Rochelle, New York
Southampton, New York
Columbus, Ohio
Charleston, South Carolina
Columbia, South Carolina
Chattanooga, Tennessee
"For the last two years, we've had people beg us to come to their city next, to which we've always had to reply, 'Not yet,'" DogSpot Founder and CEO Chelsea Brownridge explained. "But now I'm thrilled to say, 'We're ready!'"
Sign up to receive the latest news from veterinary business experts.