Global Tech Companies Join Forces to End Wildlife Trafficking
Shutting down the online illegal wildlife trade requires an integrated, international solution — one that this new global coalition believes it can provide.
Published: March 15, 2018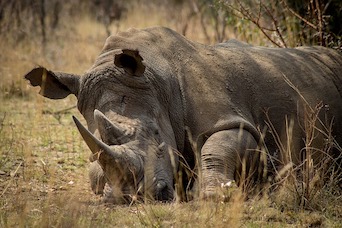 What do you get when Google, Facebook, Microsoft and Instagram come together? One heck of a team that can seemingly tackle any obstacle they choose. And now, these four powerhouse technology companies, along with 17 others, have decided to take on wildlife trafficking.
The
Global Coalition to End Wildlife Trafficking Online
has set the hefty goal to stop or at least reduce wildlife trafficking across internet platforms by 80 percent by the year 2020. The tech-driven conglomerates will work in collaboration with wildlife experts from the World Wildlife Fund (WWF), TRAFFIC and the International Fund for Animal Welfare (IFAW).
"Google is proud to partner with WWF as a founding member of this coalition, and to join other companies in working to protect endangered species from illegal wildlife trade online," David Graff, senior director of trust and safety global product policy at Google, said.
RELATED:
A simple internet search will deliver plethora options for buying elephant ivory carvings or even live animals, but no one has been able to curb these illegal exchanges.
According to the coalition's press release: "As more traders and consumers move online globally and traditional physical markets for wildlife trade become more obsolete, it is a critical time to ensure that social media and e-commerce platforms cannot be exploited by the loopholes to detection created by wildlife traffickers."
Each of the 21 tech companies involved — including Alibaba, Baidu, Baixing, eBay, Etsy, Huaxia Collection, Kuaishou, Mall for Africa, Pinterest, Qyer, Ruby Lane, Shengshi Collection, Tencent, Wen Wan Tian Xia, Zhongyikupai, Zhuanzhuan and 58 Group — will develop and implement policies and solutions to help end wildlife trafficking online.
For example,
Instagram's newest alert system
, which is meant to prohibit posts depicting things such as animal abuse, poaching or the sale of endangered animals and their parts, is a step in the right direction.
"Criminals are making a killing from selling rare species and products made from their parts," Crawford Allan, senior director of wildlife crime and TRAFFIC at WWF, said.
And it's true — the sale of wildlife parts and products are harming animals more than one may think. According to WWF's website:
More than 20,000 African elephants are killed each year to meet the demand for ivory trinkets and ornamental objects.
Three rhinos are killed each day in South Africa for their horns, which are usually used in tonics and aphrodisiacs, and for ornamental cups.
One million pangolins — which hunters use the scales of for medicinal purposes and leather products — were trafficked in the last 10 years.
"Inconsistent policies and enforcement across the web invariably create a 'whack-a-mole' effect, where ads may be removed from one site just to pop up somewhere else," Allan said. "These companies see the problem and are uniting to ensure an internet where traffickers have nowhere left to turn."
Sign up to receive the latest news from veterinary business experts.