Four Women Recognized for Leadership in Veterinary Industry
Mentor, leader, connector, role model. These words describe the four outstanding women who were chosen to receive the inaugural Feather in Her Cap Award for their outstanding work in the animal health industry.
Published: February 14, 2018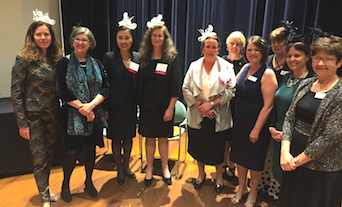 The Feather in Her Cap Association — formed in 2017 to recognize the leadership and contributions of women to the animal health industry — honored four women in Orlando this month for their long-time work in mentoring and developing future women leaders.
The selection committee — composed of the founding directors of the Feather in Her Cap Association — choose the following winners from a strong group of international candidates with diverse backgrounds who have gone above and beyond in their careers:
Kimberly Allen, BS, President of Commercial Operations for Henry Schein Animal Health
An accomplished equestrian and horse breeder, Allen has been instrumental in paving the way for many women taking leadership roles in the animal health industry and is recognized as a mentor to many — particularly in sales leadership. As president of commercial operations for Henry Schein Animal Health, Allen is responsible for sales, business development, special projects and strategic accounts. She was the first woman to serve on and the first to chair the American Veterinary Distributors Association Board, for which she has served several terms as president.
Catherine Knupp, DVM, MS, Executive Vice President and President of Research and Development for Zoetis
Dr. Knupp has led research and development programs within the animal health industry for more than a decade — including development of many of the industry's most innovative medicines and vaccines while working for Zoetis — all the while encouraging female scientists to pursue project team leadership opportunities. Today, nearly half the project team leaders at Zoetis are women, thanks in part to Dr. Knupp. As a champion for the Zoetis Midwest Women's Mentoring Network, she has not only provided continuous support but also served as a speaker and mentor in the network since its launch in 2010.
Marie-Paul Lachaud, DVM, Head of Program Management for Europe at Aratana Therapeutics
For more than 30 years, Dr. Lachaud has impacted almost every aspect of the animal health industry with experience as a practitioner, researcher, marketer, mentor and businesswoman. She founded PROTOCOLE, the first animal health clinical research organization in Europe. After more than 10 years, she merged PROTOCOLE with one of the largest global clinical research organizations — ICON — shere she served as the director of animal health in Europe. For the past 10 years, Dr. Lachaud has served as an independent consultant to nearly all the leading pharmaceutical companies in veterinary medicine.
Joyce Lee, MBA, President of North America for Bayer Animal Health
Lee has used mentoring as a development tool to champion other women in the industry over the course of her nearly two-decade-long career in animal health. In doing so, she has strived to be the connector among strong women throughout different fields. Lee has developed and led high-performing teams across a range of business topics, developing innovative strategies for addressing complex challenges in both direct and matrixed environments, and then driving alignment across groups to focus on execution with a highly collaborative approach.
"The quality and breadth of the work represented by all of the nominees is exceptional and inspiring," Linda Rhodes, VMD, PhD, president of the Feather in Her Cap Association, said. "Our inaugural winners have each made unique and significant contributions to animal health, while serving as strong role models, mentors and connectors with other women in the industry,"
The winners each received a gold feather brooch and a feathered hat during an award ceremony held February 5 at the Orlando Museum of Art in Florida.
RELATED:
Sign up to receive the latest news from veterinary business experts.