Fitbit and Fitbark to Help Dogs and Owners Get Healthier Together
The companies have announced a partnership to overlap their technology so pet owners can monitor their own and their pet's activity levels together.
Published: January 30, 2019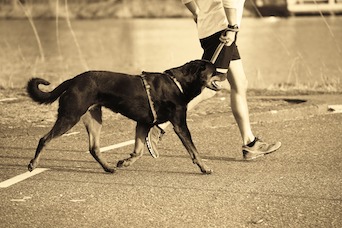 Fitbark, an app and collar sensor designed to monitor pet health and activity, is partnering with the popular human activity monitor Fitbit to inspire a healthy mindset for pets and owner alike.
Committing to the health of our pets is the key to human health and happiness, says Fitbark's cofounder and CEO Davide Rossi. "We may not have the motivation to get in the gym every day," he says, "but if we know our pets desperately need their exercise to stay healthy, we'll go out of our way to make sure they get it."
This partnership will allow Fitbit users to track both their own and their pet's daily stats and goals, including activity, distance walked, and calories burned. Those who currently have the Fitbark app can now view their Fitbit steps in the Fitbark mobile app for iOS and Android. The Fitbark's app and watch face for Fitbit Versa and Ionic will be available soon.
RELATED:
According to Fitbark's website, "Fitbit has inspired [the] mission here at FitBark, we hope to inspire many Fitbit users to better care for their pets. Together, we have the potential not only to improve care giving, but also to enhance pet-owner interaction as well as the human-animal bond."
The Fitbark app allows users to input their dog's breed and activity to plan daily and weekly goals based on the pet's breed and the user's lifestyle. After attaching the monitor to the pet's collar, the user can view their pet's daily activity, sleep amount, and eating habits.
Sign up to receive the latest news from veterinary business experts.