First Entirely Pet-Friendly Domestic Violence Shelter to Open This Fall
Purina and Urban Resource Institute have partnered to build a 30-unit domestic violence shelter in which every unit is designed to accommodate pets.
Published: May 31, 2018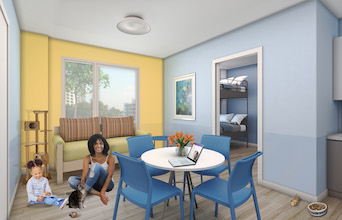 Purina announced this week that it has partnered with Urban Resource Institute (URI), a leading provider of domestic violence shelters in New York City, to construct the country's first entirely pet-friendly emergency domestic violence shelter. Located in Brooklyn, the seven-story shelter — PALS Place — will be outfitted with 30 apartments that have been designed to accommodate individuals, families and their pets. The two groups anticipate that the shelter will start accepting residents this fall, and say the space can accommodate up to 100 people.
Currently, only a small percentage of domestic violence shelters in the United States permit pets. And
data show
that domestic violence victims may delay going to a shelter for fear that their pets will be abused in their absence. The groups hope, however, that PALS Place will encourage more victims to seek solace from their abusers with the knowledge that all areas of the building were created and furnished with survivor–pet co-living in mind.
RELATED
"Domestic violence impacts every member of a household — and that includes pets," said Nathaniel M. Fields, president and CEO of URI and the Center Against Domestic Violence.
"
PALS Place is about providing survivors of abuse and their pets a safe place to live and heal together, and eliminating the impossible choice of escaping abuse or protecting your pet. But it's also about tapping into the power of the human-pet bond to create an environment that's even more conducive to healing and recovery."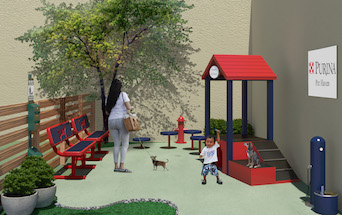 To accommodate the pets living at PALS Place, Purina will provide welcome kits for residents that contain pet food, treats and toys as well as crates, beds, water bowls, collars, leashes, grooming tools, cat litter and litter boxes. Residents will also receive free medical services for their pets, including wellness exams and vaccinations. An outdoor "Purina Pet Haven" play area will be built on-site that features artificial turf and play equipment for both dogs and their owners.
"I can't imagine leaving my dogs in a dangerous or abusive situation, and domestic violence victims shouldn't have to make that decision," Nina Leigh Krueger, president of Purina, said. "By working with URI on this amazing project, and many others, we hope to set a new standard of care for domestic violence survivors that is centered around keeping pets and people together when they need each other most."
Sign up to receive the latest news from veterinary business experts.