First Domestic Violence Shelter Designed to Accommodate Pets Opens
PALS Place includes 30 pet-friendly units for victims of domestic violence and ample community space designed to foster the human-animal bond.
Published: October 31, 2018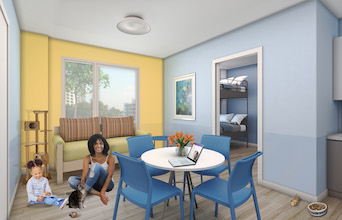 The country's first entirely pet-friendly domestic violence shelter opened its doors in Brooklyn, New York yesterday. Not only is
PALS Place
pet-friendly, but it was also specifically designed for survivors and their pets to live together and seek solace from abuse. The 7-story building is outfitted with 30 1-and 2-bedroom apartments, where up to 100 people can heal together in safety. The shelter also includes dedicated spaces for pet grooming and play, as well as unique animal-centric programming to help residents of all species thrive.
The shelter is run by Urban Resource Institute (URI), the largest provider of domestic violence shelter and support services in the United States. In 2013, URI established the
PALS (People and Animals Living Safely) Program
and subsequently began retrofitting existing URI shelters with pet-friendly elements. The program now spans 6 facilities in Manhattan and, to date, URI has welcomed more than 130 pets into its residences, including dogs, cats, turtles, birds, guinea pigs, lizards, and fish. The opening of PALS Place marks 5 years of hard work in the community and, officials with the organization said, represents the next step in URI offering innovative services for New York City's most vulnerable populations.
RELATED:
"URI's core mission is to provide compassionate and comprehensive services that benefit all victims of abuse, including historically underserved victims, and reduce barriers to seeking existing resources," said Nathaniel M. Fields, president and CEO of URI.
According to research on domestic violence, more than 70% of domestic violence victims report that their pets were either threatened, harmed, or killed by an abuser. However, only about 3% of domestic violence shelters currently accommodate pets. This disparity has forced individuals to make the choice between of abandoning their pets to enter a shelter or remaining in an unsafe environment. It is reported that
nearly half
of domestic violence victims stay in abusive situations rather than leave their pets behind.
"By providing survivors of abuse with co-living options that keep people and pets together, PALS Place marks a significant milestone in URI's ongoing commitment to addressing service gaps through innovative programming and approaches to ending cycles of abuse," Fields said.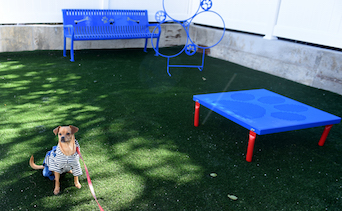 Survivors and pets residing in PALS Place have access to dedicated programs aimed at fostering the human-animal bond and promoting healing. For example, twice per year, residents will have access to a short-term group session about human and animal healing. Residents will also be invited to attend recreational activities, such as a facility-wide barbecue or a trip to a local animal shelter, on a quarterly basis. These events will incorporate tips for animal care, information about resources available for pet families in New York City, and introductions to the animal welfare profession.
Children living at PALS Place have access to animal-focused programming as part of the provided childcare. Once per month, PALS staff will join childcare staff to provide educational sessions on safe interactions with animals and how to care for pets.
PALS Place also has several communal areas for residents to assemble and engage in recreational and therapeutic activities, including a community room with a kitchen that provides opportunities for residents to socialize and an outdoor "Pet Haven" play area that features a play structure and padded grass. Additionally, periodic visits from groomers and veterinarians will be scheduled to provide care for pets in residence.
Purina has also signed on as a supporter of PALS Place and will provide each resident or family with a welcome kit that contains essentials for pet care, such as food, treats, toys, water bowls, collars, leashes, litter, and litter boxes.
"I can't imagine leaving my dogs in a dangerous or abusive situation, and domestic violence victims shouldn't have to make that decision," Nina Leigh Krueger, president of Purina, said when the launch of PALS Place was announced. "By working with URI on this amazing project, and many others, we hope to set a new standard of care for domestic violence survivors that is centered around keeping pets and people together when they need each other most."
Sign up to receive the latest news from veterinary business experts.