Farm Animal Deaths Due to Fire Nearly Doubled in 2018
More than 150,000 farm animals were killed in barn fires in 2018, nearly double the number of deaths reported in 2017. The Animal Welfare Institute wants to help.
Published: January 02, 2019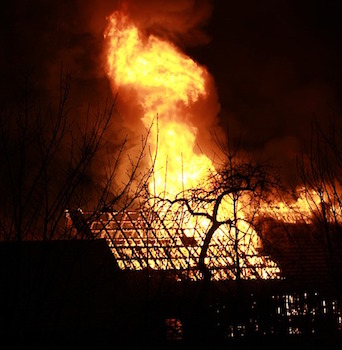 The number of farm animals that perished in potentially preventable barn fires in the United State doubled between 2017 and 2018. According to an Animal Welfare Institute (AWI) analysis of media reports, more than 150,000 farm animals died over the past 12 months. However, it is believed that the actual number of fires and animal deaths is likely higher because laws and regulations vary by state, and municipalities are not generally required to report barn fires and livestock losses that occur within their boundaries.
Most fatal barn fires occurred in colder states, particularly the Upper Midwest and the Northeast. Of the 148 fires tracked in 2018, Wisconsin reported the most (19), followed by Ohio (18) and New York (18). These states, however, have lower levels of animal agriculture production, suggesting that colder weather is a key factor in the likelihood of barn fires. About two-thirds of barn fires occurred between October and March, almost half of which resulted from improper use of or malfunctioning heating lamps, space heaters, and other heating devices.
As part of its 2018 report, the AWI documented the 5 deadliest barn fires for the year. Among them was a 5-alarm fire at Mussman's Back Acres, an egg farm in northeastern Illinois on December 4, which killed more than 50,000 hens. On October 26, 26,000 ducks at a farm in Waynesboro, Pennsylvania were lost in the second deadliest barn fire of the year that caused $1 million worth of damage. Additionally, 25,000 to 27,000 chickens were killed in a large-scale fire that broke out at a poultry farm in Tenino, Washington on June 18.
"Given the massive scale of industrial farming and the potential for hundreds of thousands of animals to die in 1 fire, it is imperative that fire prevention and suppression become a priority in the animal agriculture industry," said Alicia Prygoski, AWI's farm animal policy associate.
RELATED:
According to the AWI, more than 2.7 million farm animals—95% of which were chickens—died in 326 barn fires between 2013 and 2017. Yet there are currently no laws or regulations in the United States designed to protect farm animals from barn fires. In response, the animal welfare group released a
barn fire report
that includes several recommendations to minimize the risk of devastating blazes:
Install fire alarms, smoke alarms, and carbon monoxide detectors.
Add sprinkler systems.
Request annual inspections from the fire department.
Place fire extinguishers in barns.
Institute frequent fire prevention training for employees and routine fire drills.
Frequently check, repair, and replace heating and other electrical equipment
"We hope to reduce suffering by raising awareness about the prevalence and severity of barn fires, and by offering fire safety recommendations for all sizes of barns and farms," Prygoski said.
Sign up to receive the latest news from veterinary business experts.