Cornell Opens On-Campus Veterinary Practice, Expands Hands-on Learning
Cornell veterinary students will experience the clinical and management aspects of veterinary practice with the opening of the college's new clinic.
Published: July 31, 2018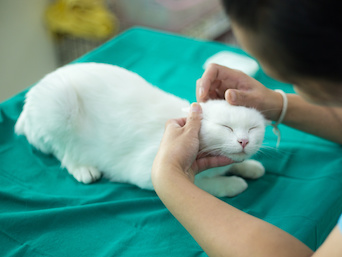 As new veterinary school graduates quickly discover, being a successful practitioner and managing a practice require much more than clinical knowledge. In an effort to better prepare students for what's to come—including patient care, marketing and management, and staff oversight—Cornell University's College of Veterinary Medicine has opened its Small Animal Community Practice.
Located on campus, the practice expands the university's DVM program to provide students with hands-on clinical and practice management experience.
"We recognized there was a gap in the veterinary education," Dean of Veterinary Medicine Lorin Warnick, PhD, said. "While our students were getting excellent training in specialty clinical skills, we also wanted to prepare them for the day-to-day challenges of running an independent general practice. This new clinic will do just that, blending entrepreneurial education with hands-on clinical training."
RELATED:
At the clinic, fourth-year veterinary students, under the guidance of faculty and experienced technicians, will see patients and perform treatments such as vaccinations, routine surgeries, and dental procedures. To better prepare students for the array of hospital settings and equipment in which they may find themselves, each exam room has computer monitors in different places and contains a variety of exam tables. Similarly, the surgery rooms feature various types of lights and the hospital has multiple types of cages.
"We're like your family veterinary hospital, where people bring their pets for most of the care that they need in their lives," said Brian Collins, DVM, Small Animal Community Practice section chief. "We want to offer state-of-the-art care using the newest information technology and equipment so that we can teach the students the gold standard whenever possible, but we want to do it in a very real setting with clients from the community."
In addition to day-to-day clinical services, the building will be home to
Maddie's Shelter Medicine Program at Cornell
and the primary care surgery program. "The combining of these 3 programs together will provide synergy for future community engagement," said Meg Thompson, DVM, director of the Cornell University Hospital for Animals.
Beyond the clinical aspects of a veterinary hospital, students will also work with practice management software that reflects what veterinarians use in practice today. Cornell anticipates that in the future, the clinic will add features to improve customer service, such as a kiosk for checking in at appointments, a patient portal for viewing medical records, online appointment booking, and confirmations through text message.
"They're not always going to have a specialist just down the corridor," Leni Kaplan, DVM, MS, a lecturer in the Section of Community Practice Service and faculty member for the new hospital, explained. "Students are really going to have to stand on their own 2 feet and decide what to do with patients."
Sign up to receive the latest news from veterinary business experts.