Class Action Lawsuit Filed Against Pet Food Manufacturer
A class action lawsuit filed against Champion Petfoods alleges that the company's dog foods contain potentially dangerous contaminants.
Published: April 05, 2018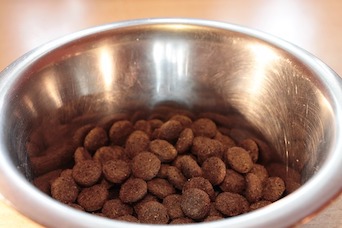 A class action lawsuit has been filed against U.S.- and Canada-based Champion Petfoods, which makes Acana and Orijen cat and dog foods. The lawsuit, filed in a California district court, includes plaintiffs from Florida, Minnesota and California who allege that the Acana and Orijen dog food brands contain arsenic, mercury, lead, cadmium and bisphenol A (BPA).
The
lawsuit
accuses the company of the "negligent, reckless and/or intentional practice of misrepresenting and failing to fully disclose" the presence of heavy metals and toxins in its pet foods sold throughout the United States. The court documents go on to state that Acana and Orijen packaging and labels emphasize fresh, quality and properly sourced ingredients, yet the labeling, advertising and packaging do not disclose the presence of heavy metals or BPA.
RELATED:
The court files include the chart below, which outlines the levels of heavy metals and BPA for 12 of the company's Acana and Orijen products. While the lawsuit presents the risks associated with high levels of consumption of the toxins, some reports are arguing that the levels may fall below what the National Research Council (NRC) deems acceptable in its second edition of
Mineral Tolerance of Animals
. This version provides updates on animal tolerances and toxic dietary levels based on requests from the FDA.
Metal and BPA Levels (mcg/kg)
Product Name
Arsenic
BPA

Cadmium

Mercury
Lead
Acana Regionals Wild Atlantic New England
Fish and Fresh Greens Dry Dog Food
3,256.40
32.5
113
51.2
249.3
Orijen Six Fish With New England Mackerel, Herring, Flounder, Redfish,
Monkfish, Silver Hake Dry Dog Food
3,169.8
39.5
200.5
54.9
38.7
Orijen Original Chicken, Turkey, Wild-Caught Fish, Eggs Dry Dog Food
907.6
0
93.2
10.8
489.8
Orijen Regional Red Angus Beef, Boar, Goat, Lamb, Pork, Mackerel Dry Dog Food
849.4
43.6
123.1
21.4
167.7
Acana Regionals Meadowland with Poultry, Freshwater Fish and Eggs Dry Dog Food
846.4
82.7
37.5
8.7
489
Acana Regionals
Appalachian Ranch with Red Meats and Freshwater Catfish Dry Dog Food
358.2
82.9
32.5
14.9
336.7
Acana Regionals Grasslands with Lamb, Trout, and Game Bird Dry Dog Food
262.8
0
30.6
9.6
305
Orijen Regional Red Angus Beef, Ranch Raised Lamb, Wild Boar, Pork, Bison Dry
Dog Food
1,066.5
37.7
62.1
21.7
138.5
Acana Singles Duck and Pear Formula Dry Dog Food
523.4
102.7
30.90
15.40
537.4
Acana Singles Lamb and Apple Formula Dry Dog Food
401.2
73.2
35
3.2
423.4
Acana Heritage Free-Run Poultry Formula Dry Dog Food
292.9
62.2
27.8
3.3
290.2
Acana Heritage Freshwater Fish Formula Dry Dog Food
977.7
0
56.2
27.4
486.8
In addition to financial compensation, the plaintiffs want Champion to cease selling its products until the heavy metals and BPA are removed or their presence is disclosed on all packaging. They also want the company to release an ad campaign retracting previous statements about the pet foods' safety or naturalness.
"The allegations contained within a class action complaint that was brought against us are meritless and based on misinterpretation of the data," a Champion Petfoods spokesperson told Petfood Industry. "We will comprehensively refute the wide range of false allegations in a court of law at the appropriate date. We are confident that we will prevail as the facts and evidence are presented to the court."
This is not the first time Champion Petfoods has had to defend the presence of metals in its cat and dog food products. In May 2017, the company released a
white paper
comparing the levels of arsenic, cadmium, lead and mercury in its foods with the NRC standards for heavy metals and the maximum tolerable levels listed in the
FDA Target Animal Safety Review Memorandum
. As the company notes in its report, small quantities of heavy metals occur naturally in meat and protein sources and the levels found in its products are the direct result of the high amounts of fresh and raw meat ingredients used in the pet foods.
"We believe that describing heavy metals as 'contaminants' in pet foods confuses pet lovers on the origin of these elements as well as their safety limits for dogs and cats," the report reads.
Sign up to receive the latest news from veterinary business experts.