Challenging and Changing the Culture of Self-Sacrifice
In a recent webinar about breaking the cycle of self sacrifice, 2 veterinarians ask, 'Is it time to put vets before pets?'
Published: December 19, 2018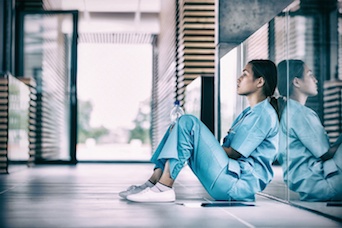 The culture of self-sacrifice is deeply rooted in the veterinary profession, but there remains room for growth and change. During a webinar hosted this week by MightyVet and VetMedTeam, Bob Lester, DVM, and Jennifer Bruns, DVM, MPVM, chief medical officer and chief veterinary officer, respectively, at WellHaven Pet Health, asked the question: "Is it time to put vets before pets?"
The answer is resounding yes.
Through self-reflection and by taking advantage of available resources, the duo hopes that veterinarians can start to change the culture of self-sacrifice that has become the norm.
What Is a Culture of Self-Sacrifice?
As Dr. Bruns explained, self-sacrifice is the mindset that others' needs are always more important than your own. This chronic condition stems from perpetually needing to be a hero to others even to your own detriment. Perpetuating a culture of self-sacrifice in veterinary practices leads to burnout and compassion fatigue, and puts a significant strain on your personal life.
RELATED:
Although the conversation about emotional wellbeing is relatively new to veterinary medicine, the pressures of the profession are not. In fact, Dr. Lester explained, self-sacrifice is a cultural legacy that veterinarians have inherited. Veterinarians tend to be fiercely independent people who rarely delegate work to others and have the mentality that they need to "suck it up" because hardships and struggles are all part of the job.
While positive attributes have been borne from this legacy—veterinarians are among the most admired professionals—its negative side effects can no longer be ignored.
Tools for Overcoming Self-Sacrifice
Ask yourself: Why am I in the veterinary field?
For many, their veterinary career is more of a calling than a job, Dr. Bruns said. The passion to help animals is often ingrained from childhood and carried throughout life. Therefore, one of the first ways to overcome repetitive self-sacrifice, he said, is to engage in self-reflection. Ask yourself what led you to enter the profession and how can you reconnect to that original passion? Additionally, reflect on why you show up at work every day. Is it because you feel the need to be a hero, or do you still feel a connection to your work?
Know when to say no.
One of the hardest skills for veterinary professionals to master, Dr. Lester said, is the ability to say no. However, doing so can open up opportunities to say yes to things in your personal life. For example, say no to:
unreasonable client demands
picking up the workload of others
performing procedures that conflict with your morals (eg, declaws)
When you set boundaries for yourself and designate circumstances when it is OK to say no, he explained, you can then say yes to:
taking your designated lunch break
planning a vacation
exercising and reading
spending time with friends and family
Take the boat test.
The boat test, Dr. Bruns said, is a simple mental exercise that helps you evaluate your priorities. Imagine yourself in a small boat in the middle of the ocean. Everything you own or that is important to you is in the boat with you. Suddenly waves start to fill the boat with water, and you must quickly decide what you are comfortable throwing overboard so that you do not drown. The items you decided can be discarded are the items you might consider removing from your real life.
Familiarize yourself with available resources.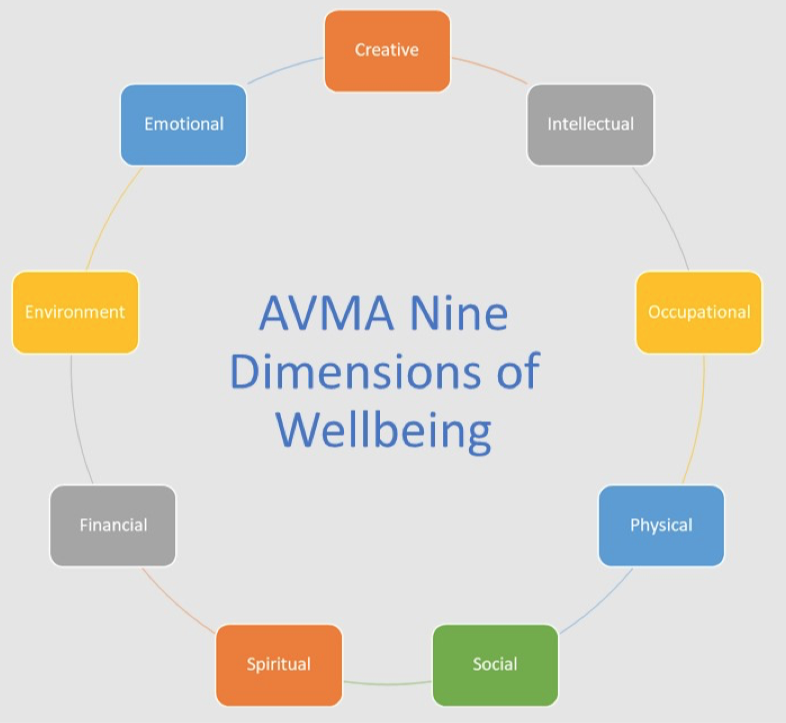 Overcoming the cycle and mindset of self-sacrifice is an ongoing practice, Dr. Lester said. Thankfully, resources are available to help veterinary professionals refocus on their mental health. In addition to MightyVet's ongoing education courses, Drs. Lester and Bruns recommended some of the tools provided on the American Veterinary Medical Association (AVMA) website.
For instance, the AVMA's
"9 Dimensions of Wellbeing"
is a good reminder of how to find balance in your life, Dr. Bruns said. "All of these areas need to be in balance so your life rolls like a wheel. If you are lacking in 1 area or over stimulating another aspect, the wheel will won't function as well."
Dr. Lester also suggested taking the
AVMA's self-assessment
to gauge your balance of positive and negative personal and work-related experiences. The tool is designed to provide introspection about oneself and one's environment and can serve as a starting point for change.
Sign up to receive the latest news from veterinary business experts.