'Better Cities for Pets' Campaign Awards Inaugural Grants
Three cities have been awarded grants to implement various pet-friendly policies and programs to make life better for both people and pets in their communities.
Published: June 11, 2018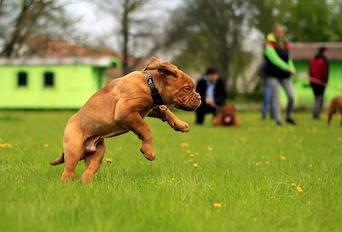 There are four signs of a pet-friendly city: welcoming animal shelters, responsible homes, park space for play and pet-friendly businesses. While several cities are already flush with each of these characteristics, a few are still lacking.
As more and more families adopt pets, more and more cities are joining the
Better Cities for Pets
movement to make life better for both residents and their furry counterparts. This five-year campaign, created by Mars Petcare, began in 2016 with an initiative that helped nearly 400 homeless pets find forever homes in Middle Tennessee.
Then in 2017, pilot initiatives kicked off in Nashville and Franklin, Tennessee, adding more dog parks, creating pet-friendly areas and opening businesses to pets throughout each town to make it easier for people to welcome pets into their homes.
RELATED:
And now this year, Mars Petcare has awarded three cities — Fort Worth, Texas, Richmond, Virginia, and Hallandale Beach, Florida — with the first-ever Better Cities for Pets grants.
"This is the first year of our grant program, and we are blown away by the response," Jam Stewart, vice president of corporate affairs at Mars Petcare, said. "We received nearly 50 applications from cities across the country that proposed impactful ways to make their communities more pet-friendly."
These grants are a direct result of an ongoing partnership between
Mars Petcare and the U.S. Conference of Mayors
(USCM) to raise awareness of the need for more pet-friendly policies.
Each winning city has its own plans for how the money will be used — each aiming to implement various pet-friendly policies and programs locally.
Fort Worth, Texas
Large-City Winner: $50,000 grant
With the grant money, the city of Fort Worth will implement its "Pets for Life" program, which will provide pet wellness resources — such as free vaccinations, spay/neuter services, micro-chipping and responsible pet education courses — to residents in underserved communities. The city plans to treat an estimated 700 pets in the first year of the program.
Richmond, Virginia
Medium-City Winner: $30,000 grant
This grant will go toward increasing therapy animal teams throughout the city. By working with Pet Partners, a nonprofit focused on the power of pet therapy, these new teams will help improve mental health and well-being through
animal-assisted therapy
hospital visit and
children literacy
programs.
Hallandale Beach, Florida
Small-City Winner: $20,000 grant
With the grant money, the city of Hallandale will establish its "Responsible Pet Ownership" campaign to help residents become better prepared for pet ownership. The campaign will show residents how to integrate pets safely and easily into their homes, hoping to lessen the number of pets surrendered to animal shelters.
In addition to these three grants, USCM will make a $1 million Nutro food donation to support the 50 cities that applied.
"There really isn't another program or resource pool quite like the Better Cities for Pets Grant Program anywhere else in the country right now," USCM CEO and Executive Director Tom Cochran said. "That's why we are so pleased to be able to make these three inaugural grants to Fort Worth, Richmond and Hallandale Beach."
Sign up to receive the latest news from veterinary business experts.