Banfield Debt Relief Program Will Help 3,500 Veterinarians
Launching tomorrow, the new Banfield Veterinary Student Debt Relief Pilot Program will offer much-needed financial support to more than 3,500 veterinarians employed by the largest general veterinary practice group.
Published: November 30, 2017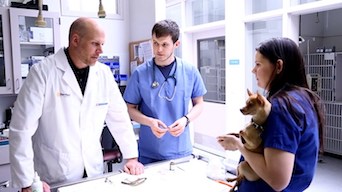 Most veterinarians are grappling with a very heavy student debt burden. Some have already
asked for help
. Others have implemented an
income-driven repayment plan
. Even so, many are still struggling. Fortunately for Banfield Pet Hospital veterinarians, their company is now offering help to its associates.
The Banfield Veterinary Student Debt Relief Pilot Program is being launched tomorrow for its more than 3,500 veterinarian employees. This new program will include three main elements:
A low-interest refinancing option with supplementary 0.25 percent interest-rate reduction from a third party financial institution
A monthly student-loan contribution of $150 paid by Banfield directly on qualifying student loans
A one-time $2,500 payment for each qualifying Banfield student program in which the doctor participates prior to graduating
"As we continue to dedicate ourselves to continuous improvement as a practice, we're investing in the new Banfield Veterinary Student Debt Relief Pilot Program to support our doctors first and foremost," said Daniel Aja, DVM, Banfield's senior vice president and chief medical officer, "but also [to] set the bar for the veterinary profession to help address this industry-wide issue."
RELATED:
According to March 2017 data from the American Veterinary Medical Association, veterinarians carry an average of more than $167,000 in student debt. By initiating its debt relief program and decreasing the concomitant stress, Banfield aims to improve its practice's holistic health and well-being strategy.
This strategy also includes comprehensive benefits and programs that focus on mind and body, financial, career, and community well-being, such as 100 percent practice-paid partial income replacement benefits that cover illness, pregnancy and unexpected life events as well as 100 percent practice-paid life insurance coverage. Other benefits include:
Community volunteering programs
Flexible schedules
Stress resilience and energy management programs
Continuing education funds
Banfield-sponsored industry memberships
When Kirk Breuninger, VMD, MPH, ambassador of the debt relief pilot program, graduated from veterinary school, his dream of finally becoming a veterinarian came at a high cost. "Like most early career veterinarians, my student debt weighed heavily on me and made financial freedom very challenging," he said. "The new student debt benefit shows Banfield is listening to and addressing the needs of its associates."
While these new program benefits are available only to Banfield veterinarians at this time, the ultimate goal is to keep this important dialogue open as a profession — and, together, to explore new, innovative ways to reduce the student debt burden in service to veterinarians.
"High levels of veterinary student debt are plaguing the industry, and Banfield is committed to helping veterinarians address this significant burden," Dr. Aja said.
Sign up to receive the latest news from veterinary business experts.