AVMA 2017: Class of 2017-2018 Future Leaders Announced
The AVMA Future Leaders 2017–2018 class was named during the annual convention in Indianapolis.
Published: July 25, 2017

American Veterinary Medical Association (AVMA) President Tom Meyer, DVM, announced the names of the new Future Leaders class during the AVMA Convention in Indianapolis.
The Future Leaders program, funded by Zoetis Animal Health and guided by High Impact Facilitation, is a 1-year curriculum that hones the strengths and leadership skills of veterinarians who are within 15 years of their veterinary school graduation year.
This is the 7th class of Future Leaders. "In 2010, [AVMA] wanted to come up with a working group to develop methods for identifying, developing, evolving, and sustaining voluntary leadership for AVMA in organized veterinary medicine at all levels," said Dr. Meyer. "Each class develops leadership skills to advance veterinary medicine, the veterinary workplace and society as a whole, as well as creating novel resources for their veterinary colleagues."
Christine Jenkins, DVM, DACVIM, chief veterinary medical officer at Zoetis, noted that the membership of each class has been diverse, strong, knowledgeable and deeply committed to their patients, clients, and colleagues.
"Zoetis and I have had the chance to get to know each class of Future Leaders," Dr. Jenkins said. "And while each has its own personality and develops its own strategic approach to the challenge they are going to address, the members of each class are all diverse, strong, and extremely knowledgeable, and you can tell they're all deeply committed to the veterinary profession, their clients, their patients, and their colleagues."
Dr. Katie Rhorig, a representative of the outgoing class of 2016–2017, presented Dr. Tiffany Lyle of the incoming 2017–2018 class with a commemorative compass. "This represents the guidance and direction this program provided us on our journey in veterinary medicine. We know it will do the same for you," said Dr. Rhorig.
Following are the members of the AVMA 2017–2018 Future Leaders class: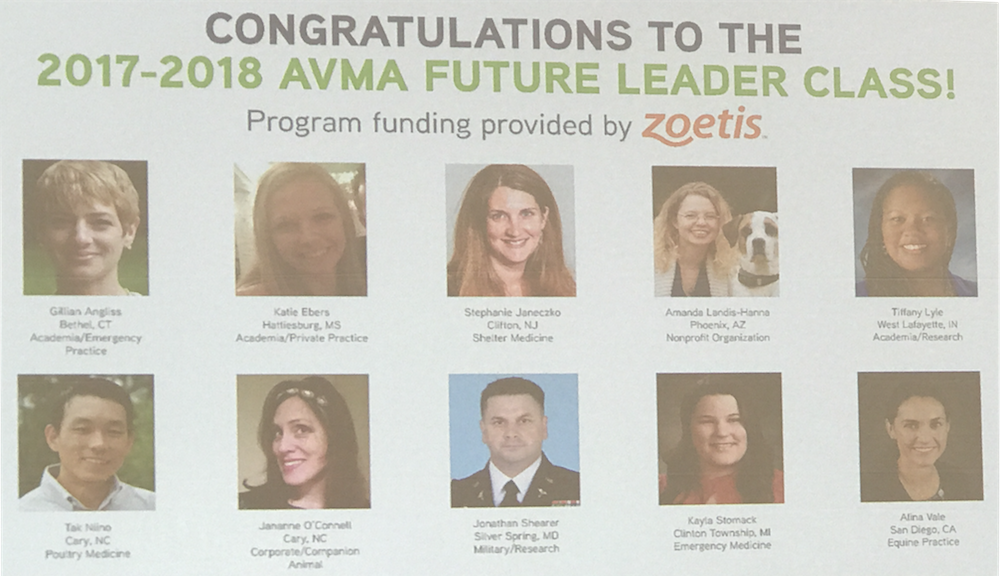 Dr. Gillian Angliss, academia/emergency practice, Bethel, CT
Dr. Katie Ebers, academia/private practice, Hattiesburg, MS
Dr. Stephanie Janeczo, shelter medicine, Clifton, NJ
Dr. Amanda Landis-Hanna, nonprofit organization, Phoenix, AZ
Dr. Tiffany Lyle, academia/research, West Lafayette, IN
Dr. Tak Niino, poultry medicine, Cary, NC
Dr. Jananne O'Connell, corporate/companion animal, Cary, NC
Dr. Jonathan Shearer, military/research, Silver Spring, MD
Dr. Kayla Stomack, emergency medicine, Clinton Township, MI
Dr. Alina Vale, equine practice, San Diego, CA
Amanda Landis-Hanna, DVM, senior manager of veterinary Outreach for PetSmart Charities and a member of the Editorial Advisory Boards of both
American Veterinarian
TM
and
Veterinarian's Money Digest
TM
, was thrilled to be selected for this year's Future Leaders class.
"The Future Leaders program is both prestigious and innovative," said Dr. Landis-Hanna. "I am extremely excited to learn and participate with my colleagues, and I am grateful for the opportunity to work with my class to create tools that can help the veterinary community with the challenges we all face. Current challenges such as animal homelessness, One Health concerns, underserved communities, and lack of diversity in the profession can be investigated through thought leadership by groups such as Future Leaders."
Sign up to receive the latest news from veterinary business experts.