ASPCA Helps Rescue Nearly 170 Dogs From Iowa Puppy Mill
Some of the dogs will be available soon for adoption.
Published: November 21, 2018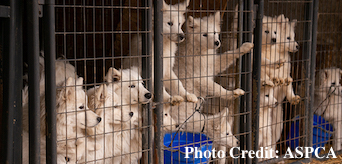 Earlier this month the American Society for the Prevention of Cruelty to Animals (ASPCA) assisted with the recovery and sheltering of nearly 170 dogs from a puppy mill in Worth County, Iowa.
According to an ASPCA press release, the organization became involved at the request of the Worth County Sheriff's Office. Upon arrival, investigators discovered dogs, all Samoyeds, living in overcrowded, dilapidated kennels with no access to clean water. Many of the dogs exhibited signs of neglect and were living in below-freezing temperatures with minimal protection from the elements. A few cats found inside the residence also exhibited signs of neglect.
"This is a large-scale breeding operation involving many animals, and we asked the ASPCA and their affiliates for assistance in removing them from the property and ensuring that they get much-needed care and treatment as we continue our investigation," said Worth County Sheriff Dan Frank.
RELATED:
The puppy mill owner was previously licensed through the US Department of Agriculture, despite failing to provide animals with adequate veterinary care, food, clean water, and shelter. "We have tried to work with the individual in addressing the growing concerns about the welfare of her animals over the past several months and unfortunately met resistance," Frank explained. Charges against the owner are still pending.
The animals were transferred from the property to a temporary shelter where they receive ongoing care. Behavior experts with the ASPCA Anti-Cruelty Behavior team evaluated each of the previously unsocialized dogs and implemented enrichment protocols.
"Many commercial breeding operations prioritize profit over the well-being of the animals, often producing puppies that suffer from health and behavioral problems," said Tim Rickey, vice president of ASPCA Field Investigations and Response. "Thanks to local animal welfare groups for raising their concerns and the Sheriff's Office for taking swift action in launching an investigation, we were able to support the case by providing expertise and resources to remove these dogs from this heartbreaking situation."
Within a week of being rescued, some of the dogs were healthy and social enough to be sent to area rescue groups, where they will soon be made available for adoption. The remaining dogs will continue to be assessed by veterinary forensic and behavior experts.
Sign up to receive the latest news from veterinary business experts.