And the 2018 Practice Manager of the Year Is...
Angelina Morgan of Pet + E.R. in Maryland has been named the 2018 Practice Manager of the Year.
Published: December 15, 2018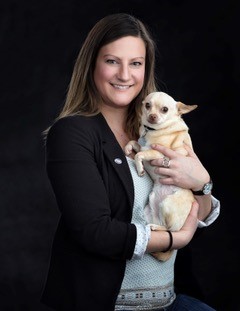 Angelina Morgan, CVPM, has been announced as the 2018 Practice Manager of the Year, a joint award presented by the Veterinary Hospital Managers Association (VHMA) and dvm360.com.
This year, a record number of practice managers applied for the award and 10 finalists were selected. Given the high level of competency exhibited by the finalists, selecting a single award recipient was challenging. Ultimately, Morgan—a hospital administrator at Pet + E.R. in Maryland—stood out from the competition for her strong leadership, decision-making, team, and management skills.
"Angelina assessed and responded to challenges in the hospital where she is employed," said VHMA president Jim Nash. "Although she was new to her job, she did not hesitate to move forward with a solution and dug into the resources and tools she acquired as a practice manager. This is what excellence in practice management is all about."
Morgan's journey to becoming a veterinary practice manager started with a transition from retail management when she sought a career that would combine her love of working with people and animals. At her first job in the veterinary profession, she was responsible for overseeing the client experience and front desk operations in a multi-specialty hospital. Although she faced a steep learning curve, Morgan credits an amazing mentor and an unflappable passion for her success. Within 4 years, she received 2 promotions and began searching for a new challenge.
It was then that Morgan accepted a job with Pet + E.R., a multisite Veterinary Emergency and Critical Care Society level II emergency hospital. When she arrived, the hospital had not had an administrator in almost a year and many team members were taking on multiple roles and becoming burned out. Morgan happily accepted the challenge and began to apply her knowledge, insights, and experience to redistribute responsibilities.
Morgan first instituted regular meetings with the hospital's shift leads to gain insights into their experiences, strengths, values, and focus. Her goal was to use the meetings to support, inspire, and motivate her peers and help them more effectively establish rapport with other team members. From these discussions, Morgan proposed that an open position at the hospital be offered internally. Although not a popular opinion at first, hiring for the position from within served as a win-win scenario for the hospital and the staff who had dedicated themselves to its success.
According to Morgan, this experience taught her that words determine the work culture and they should be carefully chosen. Opening the lines of communications allowed shift leads and team members to provide uncensored remarks. It is more important, she explained, to share these thoughts and be receptive to feedback than to operate under erroneous assumptions.
"Not only is Angelina a skilled practice manager, she is an advocate for the profession," said Christine Shupe, VHMA executive director. "Knowledge, leadership, decision making and communication are qualities that outstanding practice managers like Angelina have in common."
As the 2018 Practice Manager of the Year, Morgan will receive a complimentary 4-day registration to her choice of 2019 Fetch conferences; a complimentary VHMA membership; complimentary travel and registration to the April 2019 Management Exchange in Indiana; and complimentary travel and registration to the 2019 VHMA Annual Meeting and Conference in Arizona.
"I am so honored to receive this award," said Morgan. "I look forward to this recognition opening doors and helping me reach more managers to influence change in veterinary medicine."
Sign up to receive the latest news from veterinary business experts.