3 Factors Stimulating Pet Food Market Growth
A new report predicts that the global pet food market will continue to grow, reaching a value of $98.8 billion by 2022. What will cause the spike?
Published: June 02, 2018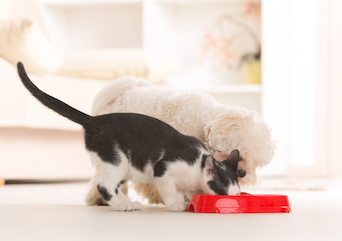 New data from Grand View Research, Inc. has the pet food industry salivating. The consulting firm estimates that the global pet food market's value will reach $98.8 billion by 2022.
But it's not company mergers or increased pricing that's projected to be a major influence over the next four years. Instead, experts point to the uptick in online sales, the growing number of pet adoptions and the motivation pet owners have to feed their pets the best products as three of the driving forces.
Pet Adoptions
While
68 percent
of U.S. households — or about 85 million families — already own a pet, Grand View Research said the rising number of nuclear families in emerging economies of the Asia Pacific region has resulted in increased adoption rates. This is particularly true for India, China, Vietnam and Indonesia. Additionally, increasing life expectancy for humans across the globe has led to older generations adopting pets, which is expected to fuel pet food demand over the forecast period.
RELATED:
Demand for Quality
Natural and organic products were once a niche segment, but the report predicted that the rising demand for nutritious, healthy and organic pet food — due to increasing awareness about animal health — will augment market demand. One of the main factors that has pet owners concerned about what their furry friends consume is the rise in
pet obesity
and its related conditions, including joint pain, high blood pressure and diabetes.
Short-Term Predictions
A separate report, "
Pet Food in the U.S.
," compiled by the market research firm Packaged Facts, suggests that much of the growth in the pet food market can be attributed to the rapid acceleration of online sales, particularly Amazon and Chewy. "Internet sales of pet products are outpacing and even stealing sales from other channels, notably pet superstores," David Sprinkle, publisher and research director for Packaged Facts, said.
The report — which indicated that 2017 pet food sales in the U.S. surpassed $26 billion — also predicted that
home-delivered pet food
would enhance the pet food market this year. The selling points for these services include customized offerings, fresh food, convenience and home-made quality.
Sign up to receive the latest news from veterinary business experts.