Holiday Gifts for Every Budget
Fourteen holiday gift ideas for pets that they will love more than the boxes they came in.
Published: December 17, 2017
If your holiday shopping list includes your pets, you're not alone. According to a
2015 survey
, 95% of pet owners buy holiday gifts for their furry friends, and it is estimated that
$69.36 billion
will be spent on pets in 2017. But how do you find a gift that your pet will love even more than the box it came in?
To make your shopping list a little lighter, we've curated a list of pet-centric gifts that cats and dogs will love and a few tech gadgets to make being a pet parent a little easier.
Regardless of budget, you can find a gift your pet will love — and many of these items are being offered at steep holiday discounts. Click through the pages to see all 14.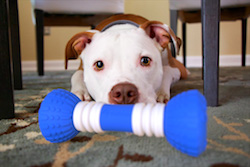 1. All Day Play
mygobone.com
$159
GoBone is an automatic "smart bone" that can be filled with treats. The bone encourages play by moving around on its own, and dogs can chase it, chew on it, toss it and eat food out of it. The GoBone app component allows pet owners to schedule automatic playtime for up to eight hours and record their dogs' adventures.
Sign up to receive the latest news from veterinary business experts.