Compassion Fatigue and Burnout: History, Definitions and Assessment
Don't suffer in silence, be aware of the symptoms and seek professional help when needed.
Published: October 27, 2017
Transference and countertransference of pleasant and unpleasant emotions, and associated conscious and unconscious reactions between a psychotic patient in pain and his or her therapist, was a topic of much discussion between neurologist Sigmund Freud and psychologist Carl Jung in the first decade of the 20th century.
The idea that trauma — such as physical injury, rape, assault, witnessing another's death and the like — could cause psychological problems is, likewise, not new. Before being included in the third edition of the "Diagnostic and Statistical Manual of Mental Disorders" (DSM-III) in 1980, PTSD was known as railway spine, traumatic war neurosis, stress syndrome, shell shock, battle fatigue and a variety of other terms.
15,16
Both the DSM-517 and the World Health Organization's global standard for disease categorization, the International Classification of Diseases (ICD-10),
18
list PTSD. Burnout is listed in the ICD-10 as a state of vital exhaustion under the category of problems related to life-management difficulty. Compassion fatigue, on the other hand, which has similar but less severe symptomatology compared with PTSD, is not listed in either the DSM-5 or the ICD-10.
Assessment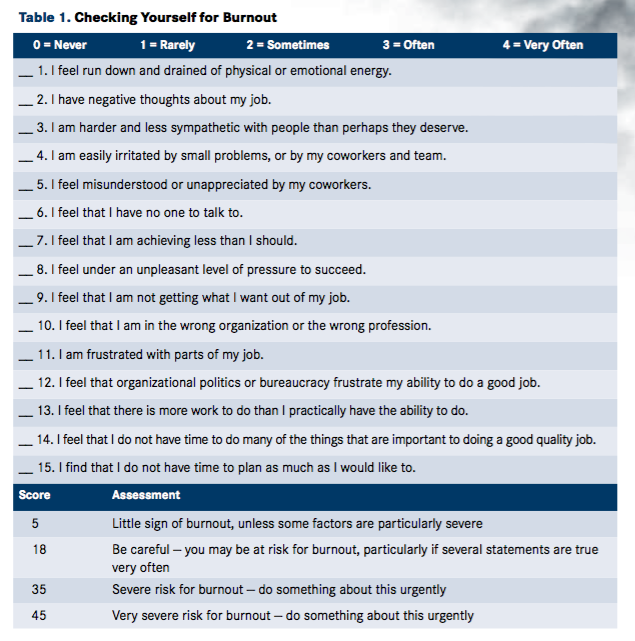 Professional Quality of Life Scale
A common measurement of compassion fatigue and burnout, the Professional Quality of Life (ProQOL) Survey describes compassion fatigue as comprising burnout and secondary trauma.
19
This 30-question, five-point Likert scale assessment developed by Beth Hudnall Stamm, PhD, gives scores for compassion satisfaction, burnout and secondary traumatic stress. It is free to use and available on the ProQOL
20
and AVMA
21
websites.
Taking the ProQOL can help you answer the question "Do I have compassion fatigue, burnout or something else?" Your score can show you how much compassion satisfaction your job brings you and help you differentiate between burnout and secondary trauma — the latter of which is roughly equivalent to compassion fatigue.
Another handy assessment of burnout comes from the online training website Mind Tools (
Table 1
).
22
Individuals who get a "normal" score on the ProQOL or similar scales but think they may be having problems should dig a little deeper. At a recent conference presentation, very few members of the audience had concerning scores on the ProQOL, but many had concerning scores on the Compassion Fatigue Scale and the Secondary Traumatic Stress Scale.
Compassion Fatigue Scale
The Compassion Fatigue Scale, a less extensive investigation of compassion fatigue, determines relative agreement with 13 statements and, like the ProQOL, scores for secondary traumatic stress and burnout components of compassion fatigue (
Table 2
).
23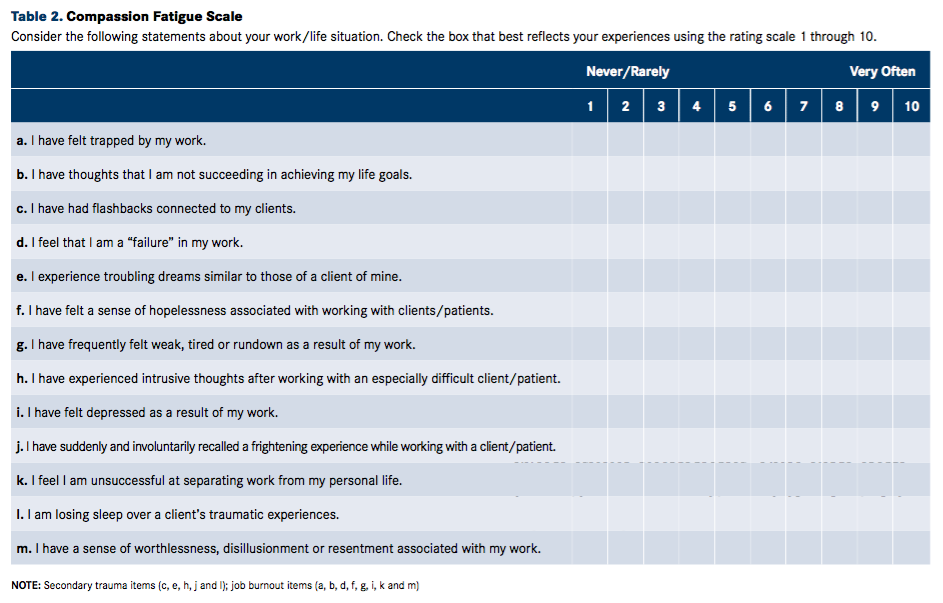 Secondary Traumatic Stress Scale
The Secondary Traumatic Stress Scale
24
has 17 statements based on PTSD symptoms described in the DSM-IV (
Table 3
).
25
These symptoms are classified in the scale as representing the following factors:
Intrusion — statements 2, 3, 6, 10, 13
Avoidance — statements 1, 5, 7, 9, 12, 14, 17
Arousal — statements 4, 8, 11, 15, 16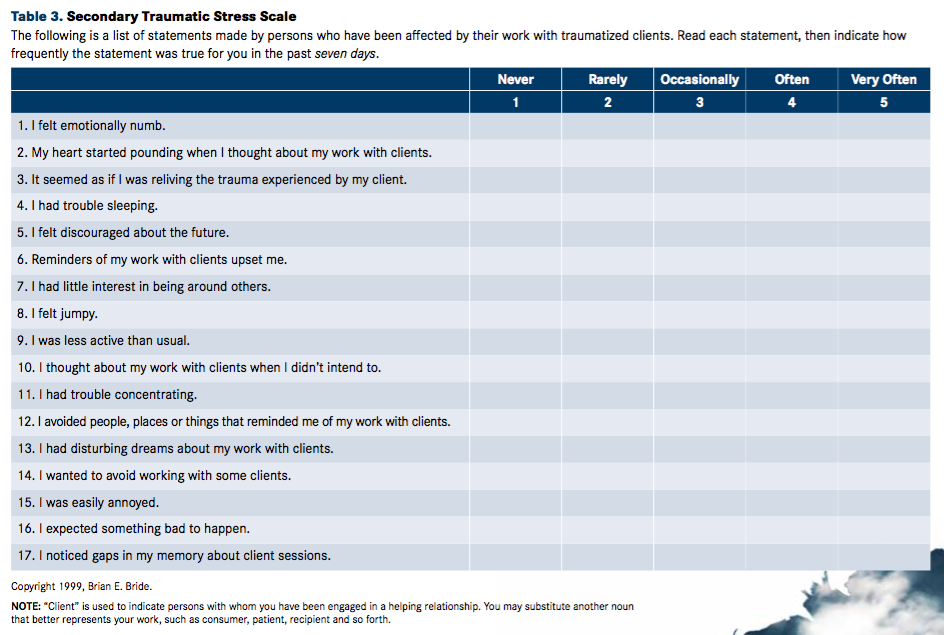 Provider Resilience
A handy way to assess your resilience is via a mobile phone app called Provider Resilience.
26
Developed to help health care providers guard against burnout and compassion fatigue when helping veterans, the Provider Resilience app has many features that are useful for any health care professional.
The main screen is a dashboard with a Resilience Rating gauge. The value is based on the data you input via:
Vacation clock
Resilience builders/killers quiz (recommended daily)
Burnout toggle chart (recommended weekly)
ProQOL assessment (recommended monthly)
You can keep track of how you have done by checking on charts that display your burnout and ProQOL scores over time. This is a very functional, well-conceived app with lots of features. There are cartoon jokes to add humor, simple physical exercises that can be done in the office and alphabetically sorted "value cards" for contemplation or use as a daily devotional.
The Bottom Line
Why is it important to know whether you have burnout or compassion fatigue or both? Because action plans addressing these problems differ.
Treatment of burnout focuses on identifying and addressing areas of mismatch by changing the individual and/or the organization.
7,27
With compassion fatigue, on the other hand, one needs help increasing resilience by improving empathic ability and empathic response.
28,29
The focus is on improving self-care, maintaining appropriate detachment and increasing social support and a sense of satisfaction.
28
In an article titled "The Myth of Compassion Fatigue in Veterinary Medicine,"
30
Dani McVety, DVM, cofounder and CEO of Lap of Love Veterinary Hospice, describes an incident in which she was inappropriately berated by a client. The client had made questionable pet-care decisions and angrily struck out at Dr. McVety when the result was disagreeable. Rather than taking the attack personally, Dr. McVety apologized for her part in the misunderstanding and focused on providing the owner with treatment plan options. It was a poignant way to move past the client's guilt and hurt feelings and help the patient. As she explained in a
recent video
on the
Veterinarian's Money Digest
®
website, Dr. McVety realized that her angst about this situation was not the result of compassion fatigue but rather "ethical fatigue."
31
My assessment is that Dr. McVety faced an incident of burnout related to values and reward mismatch between herself and her client. Compassion fatigue may be an overused term, but it is certainly not a myth. Her article and video provide an excellent example of why we need to learn as much as we can about burnout and compassion fatigue, use the correct terminology and get professional assistance as needed. With symptoms overlapping among burnout, compassion fatigue, depression and other mental problems, we may be unable to self-diagnose, much less self-treat.
While I have studied these conditions in depth, when it came to addressing my own issues, I found that getting professional help was imperative. So many of us feel a stigma regarding failure that prevents us from reaching out for a helping hand. But remember what Sir William Osler said: "A physician who treats himself has a fool for a patient."
32
---
Dr. Coles, a certified compassion fatigue professional (CCFP) and Missouri recovery support specialist-peer (MRSS-P), is a well-being advisor, medical writer and founder of Compassion Fatigue Coach. He is also the medical director at Two Dogs and a Cat Pet Club in Overland Park, Kansas.
---
References:
Freudenberger HJ. Staff burn-out. J Soc Issues. 1974;30:159-165. doi: 10.1111/j.1540-4560.1974.tb00706.x.
Coles TB. The solution to burnout. Vet Forum. 2003;20:26-31.
Episode 740: Burnout [podcast]. NPR Planet Money website. http://www.npr.org/sections/money/2016/12/07/504734219/episode-740-burnout. Published December 7, 2016. Accessed March 22, 2017.
Freudenberger HJ, Richelson G. Burn-Out: The High Cost of High Achievement. Toronto, ON: Bantam Books; 1980.
Maslach C, Jackson SE. The measurement of experienced burnout. J Occup Behav. 1981;2:99-113.
Maslach C, Jackson SE, Leiter M. The Maslach Burnout Inventory Manual. In Zalaquett CP, Wood RJ (Eds): Evaluating Stress: A Book of Resources. London: Scarecrow Press; 1997:191-218.
Maslach C, Schaufeli WB, Leiter MP. Job burnout. Annu Rev Psychol. 2001;52:397-422. doi: 10.1146/annurev.psych.52.1.397.
Ponocny-Seliger E, Winker R. 12-phase burnout screening, development, implementation and test theoretical analysis of a burnout screening based on the 12-phase model of Herbert Freudenberger and Gail North. ASU Int. 2014;49:927-935.
Mescia ND, Gentry JE; Florida Center for Public Health Preparedness. Understanding compassion fatigue: helping public health professionals and other front-line responders combat the occupational stressors and psychological injuries of bioterrorism defense for a strengthened public health response: course manual. www.fcphp.usf.edu/courses/content/ucf/ucf_manual.pdf. Published 2004. Accessed September 20, 2017.
Joinson C. Coping with compassion fatigue. Nursing (Lond). 1992;22:116,118-120.
Boyle DA. Countering compassion fatigue: a requisite nursing agenda. Online J Issues Nurs. 2011;16(1):2. doi: 10.3912/OJIN.Vol16No01Man02.
Depippo A. Compassion fatigue and self-care strategies among addiction professionals: a qualitative study [dissertation]. Scholar Commons University of South Florida website. http://scholarcommons.usf.edu/cgi/viewcontent.cgi?article=6875&context=etd. Published January 2015. Accessed June 16, 2016.
Figley CR, ed. Compassion Fatigue: Coping With Secondary Traumatic Stress Disorder in Those Who Treat the Traumatized. New York, NY: Brunner/Mazel; 1995.
Figley CR. Compassion fatigue: toward a new understanding of the costs of caring. In Stamm BH (Ed.): Secondary Traumatic Stress: Self-Care Issues for Clinicians, Researchers, and Educators. Lutherville, MD: Sidran Press; 1995.
Gentry JE. Compassion fatigue: A crucible of transformation. J Trauma Pract. 2002;1(3-4):37-61.
Vitzthum K, Mache S, Joachim R, Quarcoo D, Groneberg DA. Psychotrauma and effective treatment of post-traumatic stress disorder in soldiers and peacekeepers. J Occup Med Toxicol. 2009;4:21. doi: 10.1186/1745-6673-4-21.
American Psychiatric Association. Diagnostic and Statistical Manual of Mental Disorders. 5th ed. (DSM-5). Washington, DC: APA; 2013.
World Health Organization. International Statistical Classification of Diseases and Related Health Problems. 10th ed. (ICD-10). Geneva, Switzerland: WHO; 2016.
Stamm BH. The Concise ProQOL Manual. 2nd ed. ProQOL.org website. http://www.proqol.org/uploads/ProQOL_Concise_2ndEd_12-2010.pdf. Published 2016. Accessed September 20, 2017.
Stamm BH. ProQOL measure. Proqol.org website. http://proqol.org/ProQol_Test.html. Published March 21, 2012. Accessed June 1, 2017.
Assess Your Wellness. American Veterinary Medical Association website. https://www.avma.org/ProfessionalDevelopment/Personal/PeerAndWellness/Pages/assess-your-wellness.aspx. Accessed September 25, 2017.
Burnout self-test: checking yourself for burnout. MindTools website. www.mindtools.com/pages/article/newTCS_08.htm. Accessed July 29, 2017.
Gentry JE, Baranowsky AB, Dunning K. ARP: The accelerated recovery program (ARP) for compassion fatigue. In Figley CR (Ed.): Treating Compassion Fatigue. New York: Brunner-Routledge; 2002:123-137.
Bride BE, Robinson MM, Yegidis B, Figley CR. Development and validation of the Secondary Traumatic Stress Scale. Res Soc Work Pract. 2004;14:27-35.
American Psychiatric Association. Diagnostic and Statistical Manual of Mental Disorders (DSM-IV-TR). Washington, DC: APA; 2000.
Provider Resilience [app]. National Center for Telehealth and Technology website. http://t2health.dcoe.mil/apps/provider-resilience. Accessed June 1, 2017.
Maslach C, Leiter MP. The Truth About Burnout: How Organizations Cause Personal Stress and What to Do About It. San Francisco, CA: Jossey-Bass; 1997.
Ludick M, Figley CR. Toward a mechanism for secondary trauma induction and reduction: reimagining a theory of secondary traumatic stress. Traumatology. 2016;23:112-123.
Figley CR, Roop RG. Compassion Fatigue in the Animal-Care Community. Washington, DC: Humane Society Press; 2006.
McVety D. The myth of compassion fatigue in veterinary medicine. DVM360 website. http://veterinarynews.dvm360.com/myth-compassion-fatigue-veterinary-medicine. Published January 17, 2017. Accessed June 1, 2017.
McVety D. Compassion fatigue, burnout and ethical fatigue. Veterinarian's Money Digest website. www.vmdtoday.com/videos/compassion-fatigue-burnout-and-ethical-fatigue. Published May 31. 2017. Accessed June 1, 2017.
Osler W, Bean RB, Bean WB. Sir William Osler Aphorisms, From His Bedside Teachings and Writings. New York, NY: Schuman; 1950.
Sign up to receive the latest news from veterinary business experts.